CD Review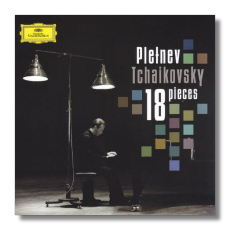 18 Pieces
Mikhail Pletnev, piano
Deutsche Grammophon 477537-8 DDD 69:47
Although some have their origins in earlier sketches, Tchaikovsky's 18 Pieces date from the last year of the composer's life. Despite his having written two full-scale piano sonatas – the one in the G Major is the only one which is regularly played, however – Tchaikovsky's limited fame as a composer of music for solo piano rests largely on collections of smaller works: The Seasons (more accurately, "The Months") and on the present collection. All 18 pieces are free-standing – that is, they lose nothing by being played without their companions – but together they comprise what Mikhail Pletnev thinks of as a "musical diary" – "simple melodies that might occur to one while out walking." The only connection among them is temporal; this is a grouping, not a cycle. Stylistically, they are salon music, albeit of a high quality. There are dances – a mazurka, a grand polonaise, two waltzes – hat-tips to Schumann and Chopin, and (speaking of Schumann) unique works with picturesque titles such as "Tendres reproches" (Tender reproaches) and "Passé lointain" (The distant past). They are not easy to play, but many of them are not out of the reach of a diligent and talented amateur. The composer wrote them basically because he knew that they would give him a quick influx of money.
Pletnev's major competitors in Op. 72 are Victoria Postnikova (Erato) and Michael Ponti (VoxBox). Ponti has a tremendous technique and he rips through these pieces as if they were a bowl of chicken wings during the Super Bowl. Sometimes he is exciting, at other times he is perfunctory. It takes him just under 53 minutes to play all 18 of them; Pletnev requires an additional ten minutes! I have not heard Postnikova, but her box of Tchaikovsky's complete piano works has been well received.
Pletnev's new recording was made in June 2004, in front of an audience in Zürich. We hear them rustling and clapping at the beginning, and clapping again at the end. (There's more rustling between the pieces as well.) Pletnev seems eager to convince us that these are very important works, and so everything is inflected, almost to the point of fussiness. Within a given piece, tempos vary to such a degree that sometimes one forgets that one is listening to works that, for the most part, fit into an A-B-A pattern. If one were trying to find a recording which was the opposite of Ponti's, it probably would be Pletnev's. I like his playing, and he is a fine musician, but sometimes it feels like he is gilding the lily in these performances. A simpler approach would have been more characteristic of the composer.
As an encore, Pletnev plays a posthumous Chopin nocturne. This performance works well, probably because the pianist feels that he needs to be less of an apologist for Chopin than for Tchaikovsky. The engineering – not very brilliant – instead captures the dark richness of the piano's timbre.
Copyright © 2005, Raymond Tuttle