Related Links
Recommended Links

Site News
CD Review
Maurizio Pollini - A Reappraisal
Ballade #1 in G minor, Op. 23
Ballade #2 in F Major, Op. 38
Ballade #3 in A Flat Major, Op. 47
Ballade #4 in F minor, Op. 52
Prélude in C Sharp minor, Op. 45
Fantasy in F minor, Op. 49
Maurizio Pollini, piano
Deutsche Grammophon 459683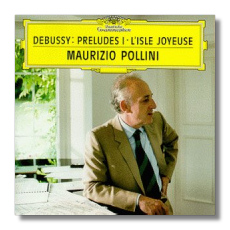 Préludes – Book I
L'Isle joyeuse
Maurizio Pollini, piano
Deutsche Grammophon 445187
Two recent releases, described below, give us an opportunity to reappraise Maurizio Pollini's artistry as he approaches his 60th birthday. This is needed because it's time to modify – if not entirely dispel – the reputation that has dogged him throughout his career: that he is a pianist who is more concerned with technical perfection than with the musical content of what he plays. David Duval, for instance, says that his performances can be "antiseptic and driven, with structures so tight that the concert room becomes airless', and others talk about his cool and dispassionate approach to even the most romantic music.
This was not an entirely inaccurate description of his early performances and recordings. His 1973 Schumann Sonata 1, for instance, was blazing in its pace and intensity, but the apparent passion with which it was played was cold and impersonal. Pollini has always been an intellectual rather than an intuitive artist; he thinks through all the problems of what he plays – interpretive as well as technical – and presents us with the result in performances that are polished to the nth degree, but often lack warmth and spontaneity. For many years we have been dazzled by his flawless technique, impressed by his solid musical structures, and gratified by his ability to bring out lines and dynamic contrasts that no one else had noticed. But at the same time, we have often been left with a sense of emotional emptiness.
What we hear on two recent discs is another matter. One contains Chopin's Ballades and two other pieces (DG 459683) and the other Debussy's Préludes Book I and L'Isle joyeuse (DG 445187). In both, there is still not a great deal of warmth or variety of tone and color, but they are as technically adroit as ever, and Pollini's interpretations are considerably deeper, more personal, and more persuasive than in earlier years. His power and precision in the Ballades are controlled and at the service of the music, with clear lines and textures. The Prélude Op. 45 is exquisitely played, and Fantaisie Op. 49 is skillfully held together and eloquently expressed. The Debussy pieces are attacked a little too aggressively, but they are impeccable, elegant and refined, subtly phrased and well-balanced. They are also imaginative, for example in the way he uses the sustaining pedal to hold the final harmonics of "Les Collines d'Anacapri" well past the closing notes. There isn't much music on these discs (48 minutes on one, 43 on the other), but what there is is very much worth hearing, and we can look forward with pleasurable anticipation to many more years of this exceptional artist's work.
Copyright © 2000, Alexander J. Morin