Related Links
Recommended Links

Site News
CD Review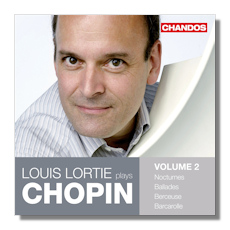 Volume 2
Nocturne #6 in G minor, Op. 15, #3
Ballade #1 in G minor, Op. 23
Nocturne #4 in F Major, Op. 15, #1
Ballade #2 in F Major, Op. 38
Nocturne #2 in E Flat Major, Op. 9, #2
Nocturne #13 in C minor, Op. 48, #1
Ballade #3 in A Flat Major, Op. 47
Nocturne #15 in F Minor, Op. 55, #1
Ballade #4 in F Minor, Op. 52
Berceuse in D Flat Major, Op. 57
Nocturne #5 in F Sharp Major, Op. 15, #2
Barcarolle in F Sharp Major, Op. 60
Louis Lortie, piano
Chandos CHAN10714 75min
Unfortunately I missed volume one of this series, which must have been, if I can judge by the quality of these performances, a quite compelling collection. Lortie generally favors a slightly understated approach to Chopin. Thus the white-heat passion in the First Ballade is tempered by a lovely Romanticism. This is not to suggest that Lortie's readings are low on tension and spirit: the ensuing F major Fourth Nocturne features beautiful lyricism in the outer sections but explodes with an onrush of energy and sinister character in the dark middle section.
Actually, Lortie's somewhat restrained approach works especially well in the nocturnes: the E Flat Major Second has a melting beauty and perfect sense of flow to its yearning character; #13 (C minor) comes across with such a touching forlorn manner in the first half and painful frustration in the stormy latter part; and the F minor Fifteenth is rendered in a deliberate tempo with subtle use of rubato to paint a dreamlike dark but lovely world.
Lortie plays the Second Ballade's serenity with an exquisite, sensitive touch and renders the stormier moments with enough fire, despite a slightly slower than usual tempo. The Fourth Ballade's darker lyricism is given a mostly gentle treatment, but as the emotional temperature rises Lortie imparts both energy and passion to yield effective contrast. As he builds toward the ending he brilliantly captures the collapse when the ecstatic beauty of the music yields to darker, impetuous forces. Lortie's Berceuse is simply lovely, though his Barcarolle might be viewed as a bit controversial for its gentle, less ebullient demeanor. This piece is one of Chopin's happiest creations, and while Lortie captures the bright moods well enough, there are a few clouds in his sky owing mainly to the less lively tempos and tendency toward restraint. Still, this recital overall is a success.
The sound, though a bit reverberant, is detailed and full. The verdict here then is that Lortie gives us a somewhat different take on Chopin, but one that is deeply considered, sensitively rendered and generally self-effacing from a virtuosic point of view.
Copyright © 2012 by Robert Cummings.