CD Review
Historic Russian Archives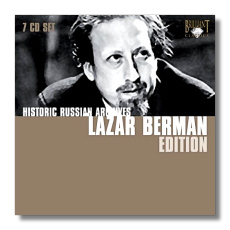 Lazar Berman Edition
Sonata "Apres une lecture de Dante"
Mephisto Waltz #1
Études de execution transcendante (7)
Rhapsodie Espagnole
Années de pelerinage: Suisse (5)
Piano Concerto #1 in E Flat *
Sonata in B minor
Sonetto del Petrarca #2
Nuages gris
Maurice Ravel: Gaspard de la nuit: Ondine
Claude Debussy: Étude "pour les huit doigts"
Manuel de Falla: Ritual Fire Dance
Piano Sonata #4
Fantasy in B minor, Op. 28
Étude in B Flat minor, Op. 8 #11
Murad Kazhlaev: 3 Preludes
Toccata, Op. 11
Roméo and Juliet (selections)
Piano Sonata #8 in B Flat Major, Op. 84
Violin Sonata #2 in D Major, Op. 94a *
Piano Sonata in C Sharp minor "Moonlight", Op. 27 #2
Piano Sonata in F minor "Appassionata", Op. 57
Polonaise "Heroic" in A Flat Major, Op. 53
Études, Opp. 10 and 25 (6)
Piotr Ilyitch Tchaikovsky: Symphony #6 "Pathétique": Scherzo (arr. Feinberg)
Domenico Scarlatti: Sonata in D minor
Muzio Clementi: Piano Sonata in B minor, Op. 40 #2
Franz Joseph Haydn: Piano Sonata in G Major, Hob. XVI/27
Wolfgang Mozart: Rondo in A minor, KV 511
George Frideric Handel: Aria from Dettingen Te Deum *
Piano Sonata in B Flat Major, D. 960
6 Song transcriptions (arr. Liszt)
Lazar Berman, piano
* Pavel Berman, violin
** Philharmonic Youth Orchestra, Moscow/Kirill Kondrashin
Brilliant Classics 93006 ADD mostly monaural 71:59, 54:38, 64:23, 78:20, 66:51, 54:35, 72:38
For Berman fans, this set is a tremendous step in the right direction. Compared to Richter and Gilels, Lazar Berman ("Lyalik") has not been particularly well represented during the CD era. (He even was passed over in Philips's "Great Pianists of the 20th Century" series a few years back.) This mirrors the rather ambivalent attitude that the Soviet Union had about him until he left it in 1990. Despite his remarkable talent, Berman had many "strikes" against him during his lifetime, at least as far as the Soviet authorities were concerned. First he was a Jew by birth. Then he married a foreigner – a French woman. The Soviet Union kept him at home more often than not in 50s, 60s, 70s, and even as late as the early 80s. (It seems that there was an incident in 1980 in which Berman tried to "smuggle" forbidden American literature back into the Soviet Union in his suitcase.) Invitations for him to play abroad were ignored by Goskonsert, the state-run agency that controlled musicians' international tours. When he was allowed out of the country, he had "minders," and family members were forced to stay at home as insurance. At one point, he and his family lived in a two-room apartment – with one room almost completely filled by his piano! By the time he left the Soviet Union for Italy, the world had become distracted by other virtuosos, and he didn't get the studio time he deserved in the 15 remaining years before his death.
Early on, Berman established himself as a Liszt specialist. This probably buttressed his reputation – unfairly given, really – for playing fast, playing loudly, and perhaps being a little interpretively shallow. (Not that Liszt should be played that way, but his music is more susceptible to that type of approach than most.) Two and a half discs devoted to Liszt are included in this collection, including a very impressive B-minor Sonata from 1955, and selections from Book One, the Swiss collection, of Années de pelerinage, recorded in 1972. These performances in particular should give the lie to the notion that Berman was an unfeeling virtuoso… or, as Joan Chissell put it, that he had a tendency "to pull out all the stops rather too often."
Berman played surprisingly little Chopin. Supposedly this is because he had a bad experience at the International Chopin Competition in Warsaw – he did not qualify! – and it "injured [his] pride." Nevertheless, a dashing 1953 performance of Chopin's "Heroic" Polonaise is included here, as is a selection of études from three years earlier. Also on the same CD is a remarkable transcription by older Soviet pianist Samuel Feinberg of the third movement from Tchaikovsky's "Pathétique" Symphony. Berman's performance, also from 1950, will make your hair stand on end with its superhuman virtuosity. (Also, it's a great deal of fun!)
The fourth disc is devoted entirely to Prokofieff. Berman's approach to the music from Roméo and Juliet is a known quantity, thanks to his DG LP – out of print at the moment, apparently! This 1980 recording of the Piano Sonata #8 actually brings out more of the music's charm than usual. We also are treated to an excerpt from one of Berman's concerts (from 1987) with his son Pavel, a fine violinist in his own right.
Berman was not afraid of wrong notes – although they probably are what led to his failure to qualify at the Chopin Competition. Frankly, he played fewer wrong notes than several of his famous peers during their concerts. The two Beethoven sonatas, from 1980 ("Moonlight") and 1962 ("Appassionata") have their wild and woolly moments, particularly in the last movements, and I suppose performances like these are what give Berman's detractors their ammunition. Regardless, I find them exciting, if not terribly stylish. His Scarlatti, Clementi, and Haydn, however, are less "wow" driven, and show that Berman could be a master of earlier repertoire as well. (He made his concerto debut playing Mozart, after all.)
Most of the recordings are monaural, and many (if not most -the absence of applause doesn't prove anything!) are live. Even the oldest recordings, made in 1950 when the pianist was just 20, are in surprisingly good sound, and the most recent ones (the Prokofieff Violin Sonata, de Falla's Ritual Fire Dance, for example) match the quality of many a commercial studio recording. The box, which takes up less than one inch of shelf space, contains the seven discs (each in their own card stock envelope) and a 12-page booklet. This contains not only a biography of the pianist, short interviews with the pianist and his pupil Nadejda Vlaeva, and even short but penetrating notes about the music itself. Brilliant Classics has done an excellent job here. Need I mention that this is being sold at an almost giveaway price?
Copyright © 2006, Raymond Tuttle