CD Review
Eugene Ormandy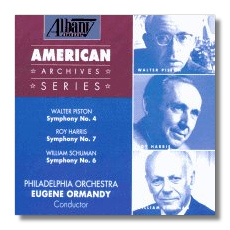 American Symphonies
Philadelphia Orchestra/Eugene Ormandy
Albany TROY256 MONO 72:02
Executive Summary: Buy this disc.
When in the course of polite conversation amongst well educated people who may not have much interest in classical music I have found that at the very least they may have heard of the likes of George Gershwin, Aaron Copland, Ferde Grofe (well at least the Grand Canyon Suite) and often little else. Some years ago I would also encounter a few who had heard of Ives, but that was back in the days when he was being discovered. If you want to dig a bit deeper and get a better sense of what mainstream composers of American concert music were doing mid-century, this disc is for you. This is also a disc for those of you who want to have more than a token representation of American music on your shelf. It is also a disc for those of you who are looking for one of the most profound symphonic essays written in this century. Anyone who has enjoyed these recordings on their original releases on Columbia LPs, this is also a disc for you. For those of you who think nothing of value has been written since 1900 or nothing of value has been written by an American composer, you need to buy this disc. Have I left anyone out, besides those that don't have much interest in classical music?
The most severe criticism I have read of the music of Walter Piston referred to it as being academic and constructed instead of inspired. I have never felt that way, but somehow I sense that for those who do find his music contrived, you need to hear his Fourth Symphony. I remember reading that a relative of Piston, perhaps his brother in law, who suggested that he was never convinced of Piston's humanity until he heard the Fourth Symphony. It is likely to be Piston's most often performed Symphony and it is easy to understand why. The opening of the work is one of those moments in music where you feel invited in and are made to feel comfortable. The vigorous second movement with its suggestion of country fiddling is brilliant. The relaxing third is a long orchestral song, the finale an exciting rondo.
The Seventh Symphony by Roy Harris is similar in form and structure to his Third. The thematic material is no less inspired. As with most of his music it tends to ramble. Some will find this to be an endearing aspect of his musical expression, yet others will become impatient. I clearly fall into the former group and find this work to be one of his finest works. The composer reworked the piece several times and out of the three versions I find the version that Ormandy recorded to be the best.
William Schuman's Sixth Symphony will be rough listening for some. Trust me on this one, it may end up being one of the most moving listening experiences you will ever have. When it comes to the profound in symphonic literature written since 1900, it is right up there with works like the Shostakovich Fourth, Sibelius Fourth, and Vaughan Williams Fourth. It offers all of the angst of Pettersson.
Schuman's harmonic style is perhaps at its most dissonant in his Sixth Symphony. That constant crossrelation of major versus minor within in the context of a polychordal harmonic structure provides an almost constant tension throughout the work. His rather conventional rhythms, some of which were jazz inspired, only heighten the intensity of his writing as many of those "advanced" harmonies might seem more appropriate to a less conventional rhythmic style. As with all of the works on this disc, it dates from the first decade after the Second World War. Upon reflection one might see Schuman's Sixth Symphony as a commentary on the horrors of war, but on one occasion when I pressed him to discuss this implication the composer responded, "I wrote the first measures and I was on my way. The entire piece is derived from those opening measures." While much of his music is filled with such optimism, this work stands out amongst his entire oeuvre as almost being defiant, perhaps even contemptuous, filled with anger, yet ending with a profound sense of remorse.
The Philadelphia Orchestra is in excellent form in these recordings. While Ormandy gives highly respectful performances, I have heard better performances of these works. A reading of the Schuman given by Edo de Waart brought out the profound, while a performance by Bernstein reinforced the brutality of the work. These are the only available recordings of the Harris and the Schuman. While the sound quality is clearly dated, the joy of not having to listen through the terrible surfaces one often encountered with Columbia discs of that vintage makes this CD worthy of consideration towards purchase. I have only one problem with this disc, namely that on the cover, what is supposed to be a picture of Walter Piston, is not Walter Piston. How could this happen? a friend offered a solution. Another Albany release features music of Piston and Hershey Kay. It would appear that someone at Albany Records got those two pictures confused!
15 October 1997
Copyright © 1997, Karl Miller