CD Review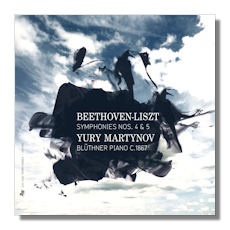 Beethoven Transcriptions
Transcription of Symphony #4, S. 464 #4
Transcription of Symphony #5, S. 464 #5
Yury Martynov, fortepiano
Zig-Zag Territories ZZT356
This is the fourth volume of Yury Martynov's period-piano cycle of the Beethoven Symphonies as transcribed by Liszt. Fiendishly difficult but quite rewarding, it's obvious that Martynov has the technical abilities to make this music work. Playing an 1867 Blüthner fortepiano which apparently took some 1000 hours to restore, the pianist clearly believes in these transcriptions and brings tremendous gusto to both works. While some may find his playing mannered in places (a criticism I've read regarding previous installments), there is also much to savor.
Though his instrument naturally lacks a "symphonic" sound – something that is especially magnified by his choice of a "period" approach and choice of a fortepiano – there are some moments that work wonderfully. The slow movement of the 4th gains a poetic intimacy that I had not yet encountered, while the bigger moments come off with such pianistic thrills that most listeners will simply marvel. Martyov does seem to have a habit of pausing a hair when adjusting tempo, something that tires upon repeated hearing and more importantly interrupts the music's natural flow. However, the quieter moments throughout the 4th are genuinely impressive, and mostly very beautiful. Predictably, the tone of the instrument hardens as the volume increases, but it's not a significant problem. On the whole, I lean toward Konstantin Scherbakov on Naxos for his fuller, less pulled-about reading, but this issue has plenty to satisfy listeners.
In the famous 5th Symphony, there is also much to admire. Martynov resists the temptation to milk the initial "Fate" theme, which is fine by me. That in turn seems to convince him that he can do some odd things with phrasing and simply milk the phrase later. Those curious pauses between transitions are also back in full force. But despite these complaints, I still find myself impressed. The quieter moments are again wholly captivating and mannerisms aside, there's tremendous attention to detail. Indeed, the softer the playing is, the more I am drawn into the hushed and supremely dramatic lines that Martynov draws with his playing. Attention to dynamics is excellent, with a stunning conclusion to the opening movement.
The rest of the work is much the same, somewhat personalized themes, somewhat harsh climaxes, and rapt, chill-inducing pianissimos. The sound is clear, and never overly resonant. In the final analysis, I believe that Martynov's musicianship and commitment to these scores trumps any odd interpretative choices that may raise eyebrows. Even if you aren't a huge fan of the period-performance movement – and I am certainly not – there is great art on display, and that's enough for me. The final installment, the "Choral" Symphony (Symphony #9, Op. 125) will doubtless conclude the cycle in the years ahead. I'm eagerly awaiting that release, and fans of great piano playing should do the same.
Copyright © 2015, Brian Wigman