CD Review
Vítězslav Novák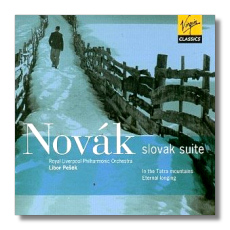 Idiomatic Performances
Symphonic Poem "In The Tatras" Op. 26 (1902)
"Moravian-Slovak" Suite Op. 32 (1906)
Symphonic Poem "Eternal Longing" Op. 33 (1904)
Royal Liverpool Philharmonic Orchestra/Libor Pešek
Virgin Classics 2435 45251-2
While listening to the discs discussed herein, the question came to me: what is an 'idiomatic' performance/recording? You have probably read reviews that maintain that such-and-such a performance is "more idiomatic". Well, while listening to the two recordings I have of the Slovak Suite this very phrase crept into my notes. So, I started asking questions. I mean notes, musical scores, are not 'idiomatic' inherently are they? So, is such a musical quality a function of something metamusical? Give me a break. Rejecting that theory, what factors are part of the gestalt we perceive as idiomatic?
If you are still with me, the other recording I listened to is on Supraphon 33CO-1743 with František Vajnar conducting the Czech Philharmonic Orchestra (not currently listed in Opus). I first heard the 'Slovak Suite' on the local public radio station and then purchased this recording. It is beautiful music. "In Church" moves even an atheist like me. Anyway, when I saw that Virgin had released this recording I requested it immediately. Comparison and contrast is a favorite way of learning for me.
Anyway, if you are still, still with me, brave soul, I hope my thoughts will reward your patience. There is certainly nothing "wrong" with Pešek's recording. In fact, as a recording, per se, it is excellent. Where I have some reservations they concern two things. First, the organ. In the Supraphon recording the organ and orchestra have equal billing; they can be heard in concert with one another. In this Virgin record when the organ comes in, especially at 7:30 into "At Church", the orchestra disappears, as if it was a concerto or something. Second, there are moments, like the playing of the oboe, in the Czech recording where the playing has an extra dimension which might be called "idiomatic" or 'more Czech'. I also noted that the strings of the Czech Philharmonic sounded more "rustic". Now, when I ask myself what this means I can only say that this is my impression developed from having heard the Supraphon recording earlier and other recordings of Czech music by Czech orchestras and conductors. Still, keep in mind that this Virgin Classics release suffers only by comparison.
Now, Pešek is Czech. He has made several fine recordings with the Czech Philharmonic. One of my favorite is the Dvořák Piano Concerto with Firkušný on RCA. That disc includes music by Janáček as well. So, I can say that it would seem to me that it is not the conductor, but likely a matter of the orchestra.
So, what is it? Well, I have a theory about music making. It argues that there are extra-musical factors that play a part in any orchestra's or conductor's way with a piece. For example, a conductor who has sailed the sea will likely have a different sense of the sound of "La Mer" than a conductor whose experience is flying over one. There is also the fact that much of Novák is based on folk tunes of the region. Musicians in the Czech Philharmonic are more likely to know these tunes and the history behind them. The Royal Liverpool Philharmonic is a fine, fine orchestra. Try as he might, however, Pešek cannot develop within their musical consciousness a sense alien to them. Even if he could sing the folk melodies, he cannot infuse them with the kind of meaning a native would have. This is not to say that it is impossible to have a conductor imprint an impression on an orchestra. Stokowski is evidence that such imprinting is possible although his impressions were more egocentric. It would be interesting to hear these same pieces recorded with Pešek and the Czech Philharmonic.
Now, what about the music itself? Well, as I listen to "In the Tarta Mountains" I am reminded at moments of Smetana's "Moldau" and of Suk's "Asrael" Symphony. The closing moments evoke an image of clouds being born in the mountains on a cold, rainy night. "Eternal Longing" has beautiful moments, too, but it is the Slovak Suite that is genuinely memorable. The five movements of this tone poem "paints a series of genre scenes in which sensitivity rather than the picturesque is the keynote." according to the notes. On the other hand, I can visualize each: At Church, Children's Scene, The Lovers, The Ball, and The Night. Novák's music is similar to Suk and Smetana in many ways. In fact, i wrote, at one point, 'Suk and Novák speak the same musical language as Dvořák but in a different dialect.'
So, now what? Well, telling you there's a recording of one of the pieces on this CD that I prefer more, but it isn't available….that has to be some kind of Academic Hell. (Neener-neener-neener!!!) So, get this disc. You'll love it.
Copyright © 1997, Robert Stumpf II