Blu-ray Review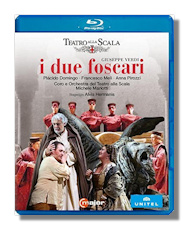 I Due Foscari
Plácido Domingo - Francesco Foscari
Francesco Meli - Jacopo Foscari
Anna Pirozzi - Lucrezia Contarini
Andrea Concetti - Jacopo Loredano
Edoardo Milletti - Barbarigo
Chiara Isotton - Pisana
Azer Rza-Zada - Fante
Modestas Sedlevičius - Servant of the Doge
Students of the Ballet Academy of the Teatro alla Scala
Teatro alla Scala Chorus and Orchestra/Michele Mariotti
Alvis Hermanis - Stage Director & Set Designer
Kristīne Jurjāne - Costume Designer
Gleb Filshtinsky - Lighting Designer
Alla Sigalova - Choreographer
Ineta Sipunova - Video Designer
Olivier Lexa - Dramatist
Recorded Live at the Teatro alla Scala 2016
C Major/Unitel Blu-ray 742104 122:00 (Opera) 16:00 (Bonus) PCM Stereo DTS-HD MA 5.1
I could write this notice with the quite common attitude that this opera is early Verdi and therefore not to be taken with the seriousness and even reverence we afford so many of the composer's later and better works. But I Due Foscari is actually pretty good and like certain other of his operas from the 1840s – Ernani, Macbeth and Luisa Miller, it may not measure up to the greatness of Otello and Falstaff but can certainly stand nearly on the same plane with Rigoletto and Il Trovatore. Thus it is fair to conclude that it deserves at least to hold a place somewhere near the fringes of the repertory. So, yes, it's not great Verdi, but it's good Verdi, and good Verdi is not deserving of neglect or condescension.
But what makes this I Due Foscari even more attractive is that its production is excellent on all counts. Those who prefer tradition and reject modern, especially updated treatments of opera will be pleased with this fine effort. Alvis Hermanis gives us quite lavish sets as well as other scenery and costumes that not only take us back to 1457 Venice, but help to capture the moods and actions of the characters so well. Large sculptings of winged lions, murals, ornamented though pale-looking palatial walls and mostly sparse lighting all effectively contribute to the atmosphere here.
Another factor that elevates this performance, at least to me, is the presence of the operatic wonder Placido Domingo, whose voice still sounds remarkably good. He was seventy-five at the time of this performance and while his tone has darkened a bit over the years, that development fits in well with this baritone role. He has received high praised for this portrayal in recent times and it's understandable: he captures the heart and soul of the Doge's tragic character and sings consistently with passion and great skill. Try his heart-wrenching Third Act number Egli ora parte to sample his still amazing vocal and dramatic talents.
Anna Pirozzi as Lucrezia possesses fine acting skills and vocal resources of the front rank. In choral and ensemble numbers her voice soars distinctly and powerfully and she sings with a consistency and confidence throughout. Her First Act Tu pur lo sai che giudice, with Domingo, is sung beautifully and with an intensity to heighten the drama. Her Act Three Pie non vive! is perhaps even more convincing as her acting skills give the music more emotional weight than Verdi's somewhat light music might typically impart. Francesco Meli is fully convincing as Jacopo and is as strong a presence in this opera as the other principals. His Second Act Non maledirmi, o prode and his duet with Pirozzi from Act Three, Donna infelice, are just two of many highlights that showcase his outstanding talents. Andrea Concetti is splendid as Loredano and the rest of the cast is quite fine. The dancing and choreography are good, though hardly are given a major role in this staging.
The Teatro alla Scala Chorus and Orchestra perform magnificently under the baton of Michele Mariotti, whose vision of the score is totally convincing. He never seems to take a misstep in his phasing of the music, from his dynamics and accenting to his tempo choices. He delivers a spirited and thrilling reading of the score, making perhaps the best case possible for this opera. Mariotti is a rising star and clearly will continue his ascent, at least in operatic circles.
The bonus track features rehearsal scenes, interviews with Domingo, Meli, Alvis Hermanis and others connected with the performance, and also contains scenes from other operas in which Domingo has appeared. The camera work and picture clarity are excellent, as is the sound reproduction. If you find early Verdi operas to your taste, this Teatro alla Scala production as captured by C Major will surely offer many delights. Highly recommended.
Copyright © 2018, Robert Cummings