CD Review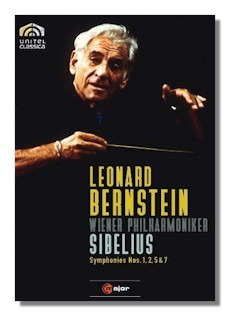 Symphonies
Symphony #1
Symphony #2
Symphony #5
Symphony #7
Vienna Philharmonic Orchestra/Leonard Bernstein
Live Recordings at the Grosser Musikvereinsaal, Vienna
1986 (#2); 1987 (#5); 1988 (#7); 1990 (#1)
Unitel Classics 702208 2DVDs
This intended cycle of the seven Sibelius symphonies, originally issued on Deutsche Grammophon compact discs beginning in 1986, was never finished owing to the death of Leonard Bernstein in October, 1990. These DVDs give a different perspective to the performances, of course, as we see Bernstein and the then-all male Vienna Philharmonic Orchestra in action. (In 1997 women were finally allowed to play in the ensemble.) The camera work is fine and gives a fairly good sense to the viewer of being there, and the sonics are pretty vivid for that time.
As most of his admirers are aware, Bernstein began stretching his tempos late in his career. Case in point for purposes of this review, the Sibelius Second here clocks in at about 52 minutes, compared with Bernstein's first recording of this symphony, from 1962, which had a duration of approximately 45 minutes, a fairly standard timing for the work. The other symphonies here are similarly broadly paced. I never heard Bernstein's complete Sibelius symphony cycle from the 1960s, but I must say that after buying his LP of the Second I did not think the performance augured well for purchase of the others. It had a scrappy quality about it, though it was spirited and compelling in its own way.
This Vienna/Sibelius Second is smoother, more epic and quite imposing. That said, it also is a bit bloated and imparts the sense that the composer, who was meticulous and detailed enough in his musical structures and orchestration, bordered on the finicky in the way he builds to his climaxes and how he uses crescendos and other expressive elements. The opening of the Second Symphony's second movement, for instance, with pizzicato basses establishing a mood of mystery, verges on the distended even at a faster tempo, but here the music seems to cross the line, sounding lazy and lumbering. Still, this is a worthwhile performance, especially for Sibelians and Bernstein admirers.
The Seventh is probably the best performance here. While, it too, at about 25 minutes, is extended well beyond its usual timing of 20 minutes, Bernstein makes a good case for his approach, heightening the work's Romantic character and cashing in on its epic sense. The First and Fifth are also quite good, the latter always seeming to me a good alternative to my favorite performance of the work, the Davis/Boston Symphony, on Philips. Davis, to me, had the best Sibelius symphony cycle – his later effort with the London Symphony Orchestra, on RCA, was not quite as convincing, at least in Nos. 3 & 5.
Anyway, this Bernstein set of four Sibelius symphonies is certainly compelling enough for the conductor's many admirers to acquire. Also, those listeners interested in a more detailed and epic approach to these Sibelius symphonies than is usually encountered won't be disappointed. Recommended.
Copyright © 2010, Robert Cummings