Related Links
Recommended Links

Site News
CD Review
Roger Désormière Conducts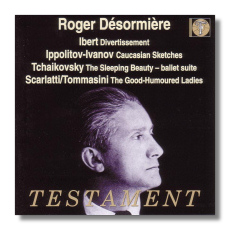 Orchestra de la Societé des Concerts du Conservatoire/Roger Désormière
Testament SBT1309 71m ADD Recorded 1951/52
Roger Désormière is best remembered for his classic recordings of modern French music, amongst which is a legendary 'Pelléas' from the 40's. Here, he teamed up with Decca's John Culshaw for a stunning series of recordings that are as admirable for their astonishing sound as for the musicality of the performances.
The inimitable sound of a top class French orchestra is clearly apparent in these recordings which have that jazzy trumpet as a constant leitmotif. Ibert's 'Divertissiment' fairly leaps out of the speakers with great immediacy and authorative élan, a proper Francophile interpretation.
Désormière was also a dab hand at Russian music as this lovely recording of Ippolitov-Ivanov's 'Caucasian Sketches' demonstrates. The atmospheric tinges of 'In a Mountain Pass' are beautifully caught by the unknown recording engineer (probably Arthur Haddy or Cyril Windebank). Désormière's tempi are also very spacious and this enhances the clarity of the recording which is almost clearer in mono.
Tchaikovsky is also a prominent feature with a smashing 'Sleeping Beauty' Suite, one of the finest recordings I have ever heard of this memorable work. The French 'twang' adds colour and identity to the immortal melodies, rather similar to Ansermet's OSR without the instrumental lapses.
Finally this charismatic French conductor rounds things off with a rousing interpretation of Scarlatti's, 'The Good Humoured Ladies' arranged by Tommasini. This is an outstanding disc on all counts with some excellently researched notes by François Laurent and a great memory to an underrated conductor.
Copyright © 2003, Gerald Fenech