Related Links
Recommended Links

Site News
CD Review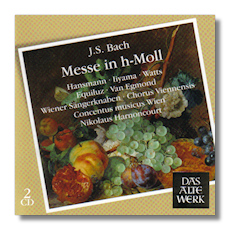 Mass in B minor, BWV 232
Rotraud Hansmann, soprano
Emiko Iiyama, soprano
Helen Watts, alto
Kurt Equiluz, tenor
Max van Egmond, bass
Vienna Boys' Choir
Chorus Viennensis
Concentus Musicus Wein/Nikolaus Harnoncourt
Teldec Das Alte Werk 2564-69853-8 2CDs 107m ADD (Rec: 1968)
This classic recording of Bach's Mass in B minor can claim to be the first ever version using period instruments and 40 years on; it is still admirably clean and refreshingly persuasive. The interpretive genius of Nikolaus Harnoncourt is already very much in evidence here especially in the relatively swift tempi employed in the "Kyrie" and "Gloria".
The soloists have much to commend them with some fine singing emanating from the lovely voice of Rotraud Hansmann and the tender tenor of Kurt Equiluz in particular. I greatly enjoyed the impressive Credo of this set; it brought back memories of my first encounter with this great work which was a surface noise-riddled LP version of this very same recording.
Opinions may differ on the validity of this recording in today's day and age, but it is certainly a fine testament and tribute to the enterprising spirit of Harnoncourt and his talented band of players. Das Alte Werke's 50th anniversary is indeed celebrated in style with lavish packaging and fulsome booklets including texts and the original ground-breaking programme note written by the Austrian conductor himself. That alone is worth the price of the set and with such inspired music making added, this is surely one of the bargains of the year in every respect.
Copyright © 2008 by Gerald Fenech