Related Links
Recommended Links

Site News
CD Review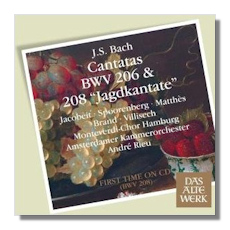 Cantatas
Schleicht spielende Wellen, BWV 206
Was mir behagt, ist nur die muntre Jagd!, BWV 208 "Hunt Cantata" (Jagdkantate), BWV 208
Erna Spoorenberg
Irmgard Jacobeit
Whilhelmine Matthes
Tom Brand
Jacques Villisech
Monteverdi Choir Hamburg
Amsterdam Chamber Orchestra/André Rieu
Teldec Das Alte Werk 2564-69646-9 ADD
This splendid CD continues to rediscover what an important part the German label Teldec played in the revival of baroque music in the late 1950's and early 60's. Here the legendary André Rieu takes on two of the best loved cantatas by Johann Sebastian Bach with predictably stunning results all round.
The "Hunting Cantata" contains some exquisite pieces especially in its majestic opening movement which Rieu takes at quite a pace. The soloists although mostly unknown to me are definitely high class with Spoorenberg particularly impressive in the solo parts.
BWV206 is also a heftily crafted work including some very trying solo passages which Bach was wont to give the female voice. Rieu holds everything together quite splendidly and this version compares well with other greats such as Ton Koopman, John Eliot Gardiner and Helmuth Rilling.
Teldec's remastered sound is astonishing for its age and the whole enterprise really gives a boost to this 50th anniversary edition. As with other issues in the series, presentation is top notch with a lovely front cover and short yet detailed notes. A winner through and through.
Copyright © 2008, Gerald Fenech