Related Links
Recommended Links

Site News
CD Review
Muzio Clementi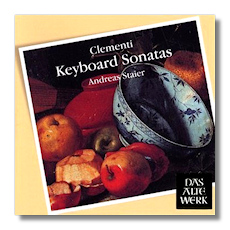 Keyboard Sonatas
Sonata in F Major, Op. 13 #6
Sonata in G minor, Op. 34 #2
Sonata in F Major, Op. 33 #2
Preludio alla Mozart
Fantasy, Op. 48
Capriccio in B Flat Major, Op. 17
Andreas Staier, fortepiano
Teldec Das Alte Werk 2564-69613-6 62m
When this issue was recorded way back in 1999, the Clementi discography was rather lean to say the least. Thankfully, during the last decade the composer's cause has been championed with greater emphasis and we are now in a better position to make a fresh appraisal of his copious output. During his lifetime Clementi was more famous as a virtuoso, and his pieces were considered ordinary and dull.
Judging by the programme on this disc, he was anything but boring with all the works revealing a sensitive and imaginative musician who could communicate both the intimate and humorous element with consummate ease. His language was also enriched with an inexhaustible flow of melody.
Andreas Staier is an assiduous yet charming advocate of this repertoire and his interpretations are ever more arresting due to the fact that he chose to perform on an 1802 John Broadwood and Sons fortepiano making the music sound like that in Clementi's day. Another superb issue in the "Das Alte Werk" 50th anniversary series in fine sound also including an informative essay by Anselm Gerhard.
Copyright © 2008 by Gerald Fenech