Related Links
Recommended Links

Site News
CD Review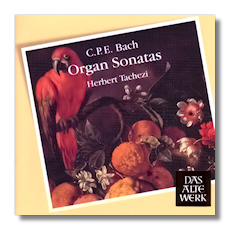 Organ Sonatas
Sonata for Organ in A Major, H. 133 (Wq. 70/1)
Sonata for Organ in B Major, H. 134 (Wq. 70/2)
Sonata for Organ in F Major, H. 84 (Wq. 70/3)
Sonata for Organ in A minor, H. 85 (Wq. 70/4)
Sonata for Organ in D Major, H. 86 (Wq. 70/5)
Sonata for Organ in G minor, H. 87 (Wq. 70/6)
Herbert Tachezi, organ
Teldec Das Alte Werk 2564-69613-0 75m ADD
According to the programme notes for this disc, these organ sonatas were composed for the lesser talents of one of the composer's patrons but when heard in their entirety, they are certainly quite pleasant and easygoing.
Herbert Tachezi is a remarkable organist, bringing colour and infectivity to the sonatas especially the delightful H85 in A minor which sounds quite exquisite. All the other works have feliticious touches and on the whole, the project is to be commended.
The organist also provides short but detailed notes on the genesis of the works in question and the recording which is made on the organ of the Pfarrkirche in the Tirol, Austria certainly sounds beautiful. This is a most rewarding reissue from the massive Das Alte Werk stable now celebrating its 50th anniversary.
Copyright © 2008 by Gerald Fenech