Related Links
Recommended Links

Site News
CD Review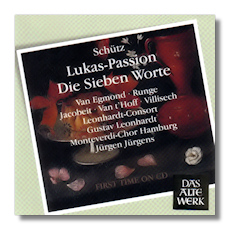 St. Luke Passion, SWV 480
The Seven Last Words of the Saviour
and Redeemer Jesus Christ, SWV 478
Max von Egmond, baritone
Peter Christoph Runge, baritone
Imgard Jacobeit, soprano
Bert van t'Hoff, tenor
Jacques Villisech, bass
Gustav Leonhardt, organ
Leonhardt-Consort
Monteverdi Choir Hamburg/Jürgen Jürgens
Teldec Das Alte Werk 2564-69612-8
This pioneering 1965 recording demonstrates the care and love bestowed by the West German musical establishment on the revival of such iconic figures as Heinrich Schütz whose works were just being rediscovered in those heady times.
The "Seven Last Words" is a work of intense spiritual edification and under Jürgens' and Leonhardt's direction, the ravishing beauty of the music is there for all to discover. The Passion dedicated to St. Luke lasts just over half an hour and is removed from the more lengthy ones composed by Bach a century later. However with such a dedicated team of soloists and fine musical direction, this pioneering recording is definitely one to have.
As mentioned before, the recording is excellent with just the right balance between instruments and organ which is played with aplomb by the legendary Gustav Leonhardt. Truly a jewel in the Teldec Das Alte Werk crown and a pioneering effort that still stands tall almost 50 years after it was first issued.
Copyright © 2008 by Gerald Fenech