Related Links
Recommended Links

Site News
CD Review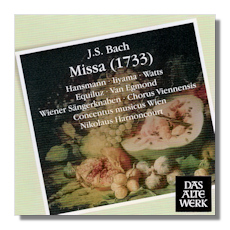 Missa (1733)
Rotraud Hansmann
Emiko Iiyama
Helen Watts
Kurt Equilez
Max van Egmond
Wiener Sangerknaben
Chorus Viennensis/Hans Gillesberger
Concentus Musicus Wien/Nikolaus Harnoncourt
Teldec Das Alte Werk 2564-69057-1 54m ADD
This disc is basically the first part of the glorious Mass in B minor in the form of the Kyrie and Gloria with the same soloists and musicians used for the seminal Harnoncourt recording (which was my introduction to the piece over 20 years ago) set down in the late 1960's.
There is little to add to my review of that recording which was probably the first period performance recording of the B minor Mass. Throughout, Harnoncourt conducts with an uncanny feeling for the right pace in this great work bringing huge energy to the opening Kyrie and the sublime "Gratias agimus tibi".
This is obviously an indulgence for those who would prefer to invest in the complete set but otherwise there is no real blemish for one of the finest Bach interpreters around.
Copyright © 2010, Gerald Fenech.