CD Review
American Maestros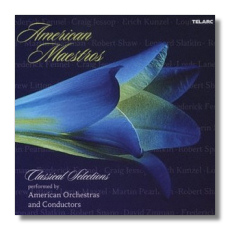 Cleveland Orchestra/Lorin Maazel
Cincinnati Pops Orchestra/Erich Kunzel
Boston Baroque/Martin Pearlman
Mormon Tabernacle Choir/Craig Jessop
Atlanta Symphony Orchestra/Louis Lane
Cleveland Symphonic Winds/Frederick Fennel
Saint Louis Symphony Orchestra/Leonard Slatkin
Dallas Symphony Orchestra/Robert Shaw & Andrew Litton
Baltimore Symphony Orchestra/Robert Spano & David Zinman
Telarc 2CD-80606 DDD 2CDs: 73:45, 73:18
This is a compilation of "classical selections performed by American orchestras and conductors." (Lorin Maazel was born in France, but he grew up in the United States, so I suppose he squeaks by.) There are three noteworthy things about this release. One is its price: two discs are being sold for the price of one. The second and third are recordings new to CD. Shaw's Atlanta recording of Hindemith's Symphonic Metamorphosis has not been released on CD until now. Originally it occupied the last side of Telarc's double-LP release of Carmina Burana. When Telarc transferred Shaw's Carmina to a single CD, the Hindemith was left without a dance partner. Berlioz's Roman Carnival Overture was recorded by Andrew Litton and the Dallas Symphony Orchestra in 1995. It has never been released in any format until now.
Shaw's reading of the Hindemith, recorded in 1980, is a good one, although Bernstein, Szell, Ormandy, and Abbado swagger even more. Shaw is better recorded than any of these conductors, however. Litton's Roman Carnival is also quite good, full of joyous activity and bright colors. Compared to my favorite interpretation (Munch with the Boston Symphony Orchestra), Litton is inferior, but again, the Telarc sound makes an impact.
The other selections come from CDs that are still in print. Some of the older recordings – Frederick Fennell's Holst with the Cleveland Symphonic Winds, Maazel's Shostakovich Fifth, also from Cleveland – are classics. Newer releases such as Robert Spano's Atlanta recording of the Vaughan Williams "Sea Symphony" and Martin Pearlman's Handel with Boston Baroque should age very well. The other selections fall on the good side of serviceable. Interpretively, they're not the best that the recording industry has to offer, but they give Americans plenty of reason to feel patriotic. The engineering is a consistent draw. The booklet notes are negligible, though.
For Shaw completists (I am one), this will be an essential release. Otherwise, this is a generous selection of sometimes unexpected classical favorites – never less than ably played and beautifully recorded – at a very good price, so frugal collectors might welcome this compilation too.
Copyright © 2003, Raymond Tuttle