CD Review
Carmina Burana
Hei-Kyung Hong, soprano
Stanford Olsen, tenor
Earle Patriarco, baritone
Gwinnett Young Singers
Atlanta Symphony Orchestra & Chorus/Donald Runnicles
Telarc CD-80575 DDD 59:42
The world wasn't thirsting for new recordings of Carmina Burana, but it will make room for a new one, if it's good. This one is. I assume one reason this recording was made was to celebrate the appointment of Donald Runnicles as the new Principal Guest Conductor of the Atlanta Symphony Orchestra. Another reason might be Telarc's Direct Stream Digital technology. A sampling rate of 2.8224 MHz is advertised, and accompanying increases in frequency response and dynamic range. Last, this recording also is offered in the new Super Audio CD format (SACD-60575). I auditioned the conventional CD, however.
The Robert Shaw tradition has been carried on in the choral work, which is precise, well blended, and emotionally involved. The ideal meeting of head and heart has been achieved. The soloists, while not star names, are impressive. Soprano Hei-Kyung Hong sings sweetly, but with a strong core that distinguishes the feminine from the merely girlish. Tenor Stanford Olsen's portrayal of the roasted swan shows that he "gets" the joke: he lets his voice show the strain of Orff's outrageous tessitura. Best of all is baritone Earle Patriarco. He creates character in each of his solo numbers, so the wicked (and hiccupping!) Abbot of Cucany – here translated as the "Land of Fools" – sounds nothing like the timid youth in "Dies, nox et omnia" (beautiful falsetto singing, here) or the idealistic poet in "Omnia sol temperat." Patriarco has a beautiful voice, and he uses it with intelligence and dramatic savvy.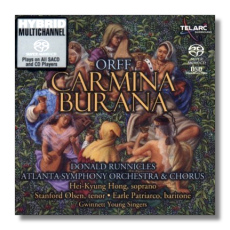 Runnicles's experience as an opera conductor keeps him on the straight and narrow. His tempos are on the good side of fast, and he pushes them only when the music seems to demand it, not just for effect. The balance between the orchestra, the choruses, and the soloists is excellent – the engineering helps. From the details that he brings out, it is obvious that Runnicles has paid as much attention to the orchestra as to the chorus. All in all, while this is neither a magical Carmina Burana nor a terribly individual one, there's nothing about it to make you regret having spent another hour with this music.
Like the performance, the engineering is as enjoyable for what it doesn't do as much as for the opposite. The digital excesses that characterized some of Telarc's early recordings (including Shaw's Carmina Burana) have been put aside in favor of subtler appeals for the attentive listener's attention.
Copyright © 2002, Raymond Tuttle