CD Review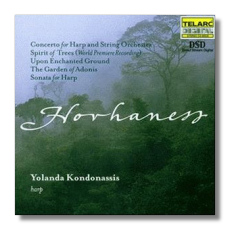 Harp Music
Sonata for Harp & Guitar, "Spirit of Trees"
Concerto for Harp & String Orchestra
Upon Enchanted Ground *
Sonata for Harp
Suite for Flute & Harp, "The Garden of Adonis"
Yolanda Kondonassis, harp
David Leisner, guitar
* Frank Hendrickx, flute
* Herwig Coryn, cello
* Patrick De Smet, tam-tam
Eugenia Zuckerman, flute
I Fiamminghi/Rudolf Werthen
Telarc CD-80530 73:01
Summary for the Busy Executive: A fine line between enchantment and narcosis.
I know of only two harpists who achieved anything near star status: the Spanish Nicanor Zabaleta and the Welsh Ossian Ellis. Other fine harpists seem the darlings of specialists or the harp-obsessed: Lily Laskine, Alice Chalifoux, Susan McDonald, Marie-Claire Jamet, and so on. Yolanda Kondonassis may well become the third star. A pupil of Chalifoux (the Dorothy De Lay of the harp and Szell's principal in Cleveland), she combines superb musicianship with a flair for marketing. She has managed to cross over to New Agers – a group I thought would have died out years ago for want of brain nourishment – while keeping a base among classical fans, a bit like James Galway and Yo-Yo Ma in that regard.
Hovhaness, more than most, is one of those composers you kind of must be "with." He wrote at least 60 symphonies – more than Miakovsky and Brian, and probably more than those two combined. A friend of mine once complained, "Yeah, but only one in five is any good," which means that Hovhaness wrote at least twelve good symphonies. Furthermore, Hovhaness has an immediately-identifiable voice and point of view. Given his facility, it may surprise people to learn that it took him a while to find his style. Indeed, at one point early on, he was known as "the American Sibelius." He destroyed all this work. Hovhaness' musical language is perhaps his greatest invention. Before him, no music sounded like this, not even the music of the composer's ethnic homeland, Armenia, which his work often celebrates. It was a conscious construction, an amalgam of Middle Eastern melismata and rhythms, Renaissance modality, and, oddly enough, Baroque counterpoint. The quality of Hovhaness' output varies, to put it mildly, and this, combined with a "mystical" sensibility close to Madame Blavatsky's, has given some license to sneer. I've never really understood the need to judge an artist at his worst, or, as an old professor of mine put it, "Every composer has his Dreckhauf, even Bach." At his best, Hovhaness possesses a gift for writing quirky yet gorgeous tunes, lush and unpredictable harmonies, and fascinating counterpoint. Nevertheless, Hovhaness sometimes seems to compose on "automatic," as if the music encountered no intellectual hitch between synapse and pencil point. Such music doesn't come from cynicism: Hovhaness is sincere, at times painfully so, as if the magnificence of his visions guaranteed the magnificence of his art.
The up-and-down quality shows up in the program on the CD. I could really have done without "The Garden of Adonis," for example. To me, it goes on and on, like a politician's drone, and neither Kondonassis nor Zuckerman lifts it out of its rut. I should say at this point that although people tend to agree not all Hovhaness comes from the top drawer, they often disagree on which pieces to consign to art hell. So I don't discount the possibility that this work may appeal to somebody other than me.
Upon Enchanted Ground, on the other hand, shows the considerable aesthetic risks Hovhaness runs and how he often brings them off. It's a slow, almost somnambulant piece. There's no discernable inexorable forward impulse to be had. It doesn't develop, as much as it simply unfolds. And yet it takes a listener along, quietly and firmly. Why this piece doesn't just dissolve into suet, I have no idea. By all rights, it should. Instead, it fascinates. Hovhaness patently knows exactly when to stop and to move on to the next absorbing surprise. The quartet instrumentation runs to the unusual: flute, cello, harp, and tam-tam (a large gong). The tam-tam piqued my curiosity this time around. I don't think there are a dozen strokes for the instrument in the entire score, and all of them rise from and never beyond a soft dynamic. But they give the piece an incredible depth, like the iceberg's bulk beneath the ocean surface or a seismic rumble.
In contrast, the "Spirit of Trees" sonata for harp and guitar goes along pleasantly enough. Its main interest for me lies in the ambiguity of harp and guitar sonority. I'm uncertain at times which instrument is sounding. It makes its smooth, serene way, but without that extra deep echo – sonically and psychically – we get in Upon Enchanted Ground.
However, I count the sonata and the concerto as the two big works on the program. Hovhaness habitually writes music his own way, and this includes his writing for harp, a very difficult instrument for a modern composer who doesn't play the thing. Essentially, the harp hasn't changed its essential character in thousands of years. It is still mainly a modal or diatonic instrument. Its "home" key is C-flat (Note: not B-major). The nineteenth century added some mechanics to the beast to allow it some ability to play sharps and flats and to modulate, but it's still not a chromatic instrument, and since at least Wagner, music sings mainly chromatically. You can't do a quick chromatic scale on the harp. You can't create a chord for it with three pitches each a half-step (or a major seventh or minor ninth, for that matter) apart. Hovhaness' finds a radical solution – literally "radical," since it goes back to the roots of the instrument. He makes the harp sing modally (mainly Dorian and Phrygian, for those keeping score), although he continually changes the modes. He confines chromatics mainly to slow, even turtle-slow passages. The emotional affect of the piece is odd, a piece "out of all time." It's modern and ancient at once. You can imagine it coming from under the hill.
The concerto, in contrast, lies smack up close to our usual sonic picture of Hovhaness. The opening movement, for example, begins with a cello solo cutting the same groove as the start of the composer's Prelude and Quadruple Fugue. The oddness consists in the lack of "star power" music for the nominal soloist. In the opening movement, solo cello and bass and massed strings have as much or more to say than the harp. All the movements save the third are slow. The harp mainly adds color or winds around and decorates the main ideas in the other instruments. However, the third movement (at under a minute, the shortest by far) reverses things, with the harp taking the lead. As in the sonata, it sings in modes, rather than in harmonies. In the fourth movement, subtitled "Dawn in Paradise," the concerto's usual balance returns, the harp now secondary. The true heart of the concerto beats here. Like Upon Enchanted Ground, the music doesn't develop, in the typical Western way. The piece builds to a climax, falls back, and then repeats the build. It's the aural equivalent of meditation, with enlightenment appearing intensely but briefly. The finale, a combination of Hovhaness hymn (the strings) and aria (the harp), gives us for the first time in the concerto the "normal" balance of solo and concertante, but as an ending it lies as far from the usual barn burning as one can get. Still, through very simple means, it focuses our attention on the soloist, thus fulfilling a concerto's basic function. I've tried to give you a description without "attitude," as it were, and consequently you may think I don't care much for the piece. You'd be wrong. This is a gorgeous, moving work, all the more so because its rhetorical strategies are so fundamental, so simple. It reminds me a bit of reading Homer, where the poetry moves quickly and naturally and yet dazzles at the same time.
Superb performances and engineering all around. Even when I don't care for a particular piece, I can't fault the players, who raise everything to a very high level indeed. Leisner's a terrific guitarist. Zuckerman can certainly play the flute. Kondonassis rises, when the music lets her, to the empyrean. Werthen and I Fiamminghi have proved their Hovhaness chops before (on Telarc CD-80392) in one of the best collections of this composer on record. This recording adds to their luster.
Copyright © 2005, Steve Schwartz