CD Review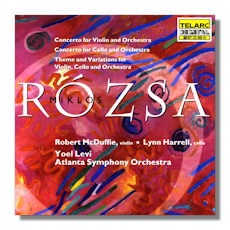 Concerto for Violin & Orchestra, Op. 24
Concerto for Cello & Orchestra, Op. 32
Theme & Variations for Violin, Cello & Orchestra, Op. 29a
Robert McDuffie, violin
Lynn Harrell, cello
Atlanta Symphony Orchestra/Yoel Levi
Telarc CD-80518 71:48
Every so often I take on a new "project" for Classical Net for the sake of my own enjoyment, and hopefully for the enjoyment of readers. I've been going through Japan's Opus Kura catalog, and have also been tackling Cleveland-based Telarc's older issues for the orchestras of Atlanta and Cincinnati. After giving the site a third review of Rózsa's Choral Suites (Telarc CD-80631), I wanted to expand upon the composer without duplication. This beautiful and oft-overlooked disc from Yoel Levi in Atlanta perfectly fits the bill.
"Beautiful and oft-overlooked" could also perfectly describe this composer's music. Mr. Steve Schwartz has written in great detail about Rózsa within his reviews for Classical Net, and I suggest reading most or all of his work if you want to better understand this Hungarian master. Best known for his epic film scores, he also composed very beautiful orchestral and chamber music. Grammy-nominee Robert McDuffie hasn't made many but all of his work for Telarc is very rewarding. He revels in this delightfully beautiful music, which sounds a little like film, a little like Hungary, and a lot like music more of us should be appreciating. As for the Cello Concerto, the composer had wanted to write one for Piatigorsky, who died before that could take place. He turned that particular project into a Viola Concerto, and did not return to the cello as a possible concerto instrument until János Starker asked for one in the late 1960s. Starker assisted in writing the Cello Concerto, and gave both the European and American debuts as late as 1971. Lynn Harrell was still in his late prime at the time this disc was made, and his playing makes something special out of this music.
Though Piatigorsky did not live long enough to reap the rewards of a concerto for cello, he lived long enough to collaborate on the Theme and Variations, one of the movements from the three-movement Sinfonia Concertante. Rózsa had the dubious honor of trying to compose for both Heifetz and Piatigorsky at the same time, which was apparently just as difficult as it sounds. The liner notes tell an amusing anecdote about the endless squabbling that took place, and Mr. Schwartz also quotes the composer somewhat differently. At any rate, Heifetz decided he wished to play and conduct only the Theme and Variations, which is what the two would later record together as well. Perhaps understanding egos better than most, the composer not only allowed this to occur, but also rescored the movement to the violinist's wishes. The end product stands alone quite well.
The sound is natural and well-balanced. My only complaint – confirmed by other writers off-site – is that the usually terrific Atlanta Symphony Orchestra is not as alert or engaged as you might expect. That issue notwithstanding, this is a great program and a must for those who want something different from their usual concerto disc.
Copyright © 2015, Brian Wigman