DVD Review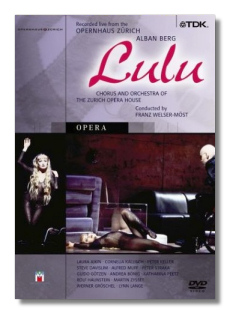 Lulu
Laura Aikin (Lulu)
Alfred Muff (Dr. Schön)
Peter Straka (Alwa)
Cornelia Kalisch (Countess Geschwitz)
Steve Davislim (Painter)
Guido Götzen (Schigolch)
Rolf Haunstein (Animal Trainer/Acrobat)
Orchestra & Chorus of the Zürich Opera House/Franz Welser-Möst
TDK DVUS-OPLULU DVD 164mins DTS Dolby Digital LPCM Stereo
Perhaps concerned that Alban Berg's Lulu has lost its power to shock us since its 1937 première, director Sven-Eric Bechtolf has reconfigured it as a parable about child abuse. Lulu as a 12-year-old girl is represented by a mime (the uncanny Lynn Lange) who appears at different moments in the action. Instead of the usual film depicting Lulu's arrest, sickness with cholera, and release, Bechtolf's film shows her ghostly doppelganger coming to harm in the forest, apparently at the hands of Dr. Schön. At the end of the opera, it is the doppelganger who is murdered by Jack the Ripper… who in turn in played by the same singer as Dr. Schön, thereby bringing the cycle of abuse to a close.
There are other interesting changes. There is no painting of the anti-heroine as Pierrot. Instead, her second doppelganger is a nude mannequin divisible into four parts. The Painter wears a bustier and garters, and appears to be auditioning for the role of Dr. Frank N. Furter in The Rocky Horror Picture Show. The scene changes are accompanied, in most cases, by films recapitulating the previous scene. Near the end, Jack the Ripper is introduced by a film in which a large piece of liver is graphically hacked up. The men are in black, with pale faces – as if Lulu has sucked the blood from their veins. The entire opera takes place in some kind of subterranean vault, or perhaps a subway station. If you fondly remember the "Sprockets" segments from the old Saturday Night Live, you'll get a kick out of this production of Lulu, which was recorded "live" (no trace of an audience, however) in the Zürich Opera House in 2002.
Despite the availability of Cerha's completion of a three-act version of this opera from Berg's sketches, Welser-Möst and Bechtolf have reverted to the two-act version, using the last two movements of the Lulu Suite to accompany Lulu's demise as a prostitute in London. The conductor's explanation for why this was done is not convincing, and for some buyers, the loss of Cerha's completions might put this DVD out of court, especially when there is a new DVD of this latter version available from Warner Music Vision.
As for the performance, it is very convincing. Aikin is visually and vocally striking in the title role – a credible man-eater in whose jaws men will gladly place their heads. She has tremendous charisma, and aptly borrows many a gesture from silent movies. (Don't forget that even before Berg got his hands on it, Lulu's story was filmed by silent movie star Louise Brooks.) Although they are challenged by the sets and by the costumes – to say nothing of the production overall! – the other singers also do a tremendous job. Here's an opera that is hard to grasp without the visual component, and flawed as it is, this production has made a believer out of me!
Of the 160-minute playing time, 34 minutes of this DVD are devoted to Reiner E. Moritz's interesting (but not crucial) film, "Lulu – A Lethal Victim," in which several cast members are interviewed, along with the conductor and the director. Production values are up to snuff; this DVD both looks and sounds good.
Copyright © 2004, Raymond Tuttle