DVD Review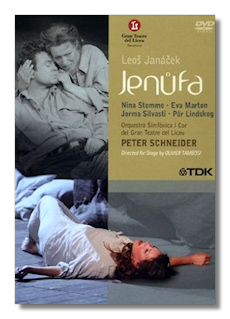 Jenůfa
Nina Stemme (Jenůfa)
Eva Marton (Kostelnička )
Jorma Silvasti (Laca)
Pär Lindskog (Števa)
Viorica Cortez (Grandmother Buryja)
Symphony Orchestra & Choir of the Gran Teatre del Liceu, Barcelona/Peter Schneider
TDK DVD DVWW-OPJENU DVD 127min Dolby Digital DTS LPCM Stereo Anamorphic Widescreen
The audience in Barcelona's Gran Teatre del Liceu goes crazy at the final curtain of this Jenůfa, and I expect you will too. As I remarked in connection with a recent Viennese production of Schoenberg's Moses und Aron on DVD, hearing an opera is one thing, but seeing it performed is something else entirely. I would not be surprised if people who were lukewarm about Jenůfa on disc will change their minds about it after they see this production. Such was the case with me.
Like Peter Grimes (another opera which deals with the murder of a child), Jenůfa is about the conflict between a morally rigid community and an individual (or in this case, several individuals) who have violated its moral codes. Jenůfa is pregnant with Števa's child, but may not marry him. Laca, Števa's stepbrother, genuinely loves Jenůfa, and in a fit of jealousy, slashes her cheek with a knife, disfiguring her. In the second act, Jenůfa has given birth to the child. Her stepmother is ashamed of Jenůfa, the child, and Števa's irresponsible conduct, and when she is unable to convince Števa to marry Jenůfa, she throws the infant in the icy river, telling Jenůfa and Laca that the baby died while Jenůfa was asleep. She arranges a wedding for Jenůfa and Laca. However, in the third act, as the two young people are about to be married, the frozen corpse of the baby is discovered, and the stepmother admits to the crime. Everyone is horrified, but Jenůfa forgives the old woman as she is led away. Jenůfa and Laca are left alone. Jenůfa dismisses him, but Laca swears his love for her, and now convinced that he does not want to marry her out of shame or pity, she accepts him. As the curtain falls, we know that, despite the horrible wrongs done to Jenůfa, she is a young woman of great character, and that she and Laca have a good chance of weathering the storms of married life together.
Olivier Tambosi's Bergmanesque production, borrowed from Hamburg, is a bit heavy-handed. "Picturesque" Moravian clothing has been eschewed in favor of a sober and more cosmopolitan style of dress. Rocks are used to symbolize both Jenůfa's baby and the moral force of her Moravian community. In Act One, the rock protrudes from the floor of the stage, as if breaking through the floorboards. In Act Two, it is a giant boulder in the middle of the stepmother's house. (She and Jenůfa have no furniture or other possessions, it seems, but they do have a rock!) In the last act, the rock has been fragmented into smaller rocks, which are scattered around the stage. When the stepmother's crime is discovered, the villagers naturally prepare to stone her. Tambosi also favors an expressionistic, exaggerated style of acting, particularly in Act Two. Jenůfa is essentially a verismo opera, and so Tambosi's stage direction sometimes strikes a false note.
But ah, the singing! There are no false notes there. Nina Stemme is 40-something Swedish soprano, just becoming better known, whose roles include both Butterfly and Isolde. In this production, she seems to live and breathe Jenůfa. She is a powerful actress, and her voice is no less powerful. It's also a beautiful instrument, and hearing her, I sometimes was reminded of Julia Varady, another versatile soprano. Eva Marton tears up the stage in the mezzo role of the stepmother, who is called the Kostelnička (the sacristan's wife). Marton's voice is a little more wobbly than it was in the 1970s, when she was making her first inroads on the international scene as a soprano, but she has lost none of her vocal power and her dramatic ability. Her scenes with Stemme have the intensity of a hurricane. Two young Scandinavian tenors, a Finn (Silvasti) and a Swede (Lindskog) also make a tremendous impression. Silvasti aptly conveys a boyish impetuosity as Laca, while the darker, handsome Lindskog is perfect as the womanizing Števa. Although their voices are nicely contrasted, both pour out gallons of masculine tone, with Lindskog the reedier-sounding of the two. In the relatively small role of the Kostelnička's mother-in-law, veteran Viorica Cortez makes a fine impression. The smaller roles are strongly cast. Peter Schneider doesn't try to smooth the score's rough edges. Janáček was not interested in creating a picture-postcard pretty image of the Czech countryside, and if the music sometimes sounds unpolished, that is exactly what the composer intended. The orchestra seems to have grasped Janáček's idiom well.
The sound (in the three usual formats) and picture (16:9 anamorphic) are superb, and the English titles are well done.
Copyright © 2007, Raymond Tuttle