DVD Review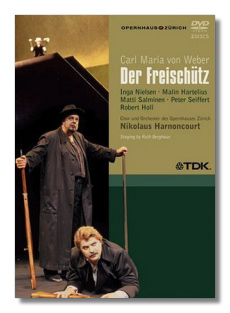 Der Freischütz
Ottokar – Cheyne Davidson
Kuno – Werner Gröschel
Agathe – Inga Nielsen
Annchen – Malin Hartelius
Kaspar – Matti Salminen
Max – Peter Seiffert
Eremit – Lazlo Polgar (not Robert Holl, as listed)
Killian – Volker Vogel
Samiel – Raphael Clamer
Zürich Opera Chorus
Zürich Opera Orchestra/Nikolaus Harnoncourt
TDK DVD DVUS-OPDFR LPCM Stereo Dolby Digital DTS Anamorphic 16:9 2DVDs
This TDK release, recorded live at the Zürich Opera House in February, 1999, is the third DVD of Weber's magnum opus, Der Freischütz, to be issued in recent times. All are still available as far as I can determine. The other two are the Dennis Russell Davies-led performance on Kultur Video and the Ingo Metmacher rendition on Arthaus Musik. I have not heard those two issues, but am confident that this TDK release will more than satisfy most fans of this operatic staple. Plainly, it's a great performance. And the visual half of the production is quite impressive as well, even if some of the costuming decisions – peasants dressed in all black outfits in the First Act looking out of place – are controversial, to say the least. And what's that red mark on the foreheads of the farmers, and later on the foreheads of the hunters? Am I supposed to see some kind of symbolism in it? I don't get it, and I'm not the only reviewer who didn't.
Before citing a few pertinent performance details, I must mention a curious error that appears in this production. I listed the headnote above as it appears on the packaging, with one correction: it seems that the Hermit is not sung by Robert Holl but by Lazlo Polgar instead. I'm not sure how that error was made, but at least it is not symptomatic of sloppy production values in general.
The main roles in the cast are brilliantly sung, especially Inga Nielsen's Agathe and Peter Seiffert's Max. As for conductor Harnoncourt – he is often at the center of controversy in his concerts and recordings, and he lives up to that part of his mostly distinguished reputation here with rather consistently relaxed pacing throughout the opera. Yet, in the end, it must be said that he makes his broad tempos, as well as his overall approach, work quite nicely. For one thing, he draws fine playing from his Zürich ensemble and splendid singing from the chorus.
The camera work is imaginatively handled throughout and the sound is vivid. Accompanying notes are decent, if far from copious. From what I have read about the two competing DVD versions of Der Freischütz on the web and in other sources, this TDK effort is probably the one to get. Certainly, I find it a compelling performance in most respects.
Copyright © 2005, Robert Cummings