Related Links
Recommended Links

Site News
DVD Review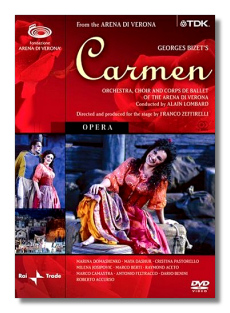 Carmen
Carmen: Marina Domashenko
Micäela: Maya Dashuk
Frasquita: Cristina Pastorello
Mercédès: Milena Josipovic
Don José: Marco Berti
Escamillo: Raymond Aceto
Le Danaïre: Marco Camastra
Le Rememdado: Antonio Feltracco
Zuñiga: Dario Benini
Morales: Roberto Accurso
Benjamin Britten's Children's Choir
Orchestra, Choir & Corps de Ballet of the Arena di Verona/Alain Lombard
Stage Director and Producer: Franco Zeffirelli
Video Director: George Blume
TDK DVOPCAR 2DVDs LPCM Stereo Dolby Digital DTS Anamorphic Widescreen
Oddly, the Naïve label has recently issued a Carmen also led by Alain Lombard that features Beatrice Uria-Monzon in the title role. In general that one featured dialogue where this Zeffirelli-directed effort offers sung recitatives, a better alternative in this opera, with its many versions. Conductor Lombard also recorded Carmen for Erato some years ago, in a rendition close to the one on this TDK DVD. Certainly he is an authority on this opera, but for all his familiarity and knowledge, he conducts Carmen with a sense of freshness and intuitive spirit that infuse the performance with vivacity and vivid colors.
He is aided by the utterly ravishing Marina Domashenko, a most seductive Carmen. What a talent she has, both vocally and dramatically! To those jaded listeners, I can only say that if you want to be captivated by this opera again, you'll be drawn in by the charismatic Ms. Domashenko, especially by her famous opening number, the Habanera. Maya Dashuk's Micäela and Marco Berti's Don José are also excellent, as are most of the principals in the cast.
But you can hardly overlook Franco Zeffirelli's contribution. The sets here are as lavish, the stage action as imaginative, the sound as vivid and balanced, the camera work as all-encompassing as one could wish for in any production. Without doubt, this one of the very finest realizations of any opera on DVD. Lombard draws inspired playing from his orchestra, the various choruses sing beautifully, and the individual singers are simply brilliant. I don't expect to encounter many DVDs superior to this one. Highest recommendations!
Copyright © 2004, Robert Cummings