CD Review
Vision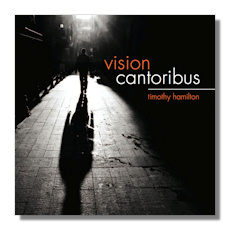 Timothy Hamilton:
Salvator Mundi
Angele Dei
Ave verum
In remembrance *
The Lord is my shepherd
Crucifixus
The Lord's Prayer
The evening hymn
sacrum convivium
Panis angelicus
Star of Bethlehem
Charles Villiers Stanford: Beati quorum via
Adolphe-Charles Adam: O Holy Night (arr. T. Hamilton for choir) *
* Elisabeth Meister, soprano
Cantoribus
Stone Records 5060192780406 44:40
Timothy Hamilton is a composer, singer, and founder and musical director of the choral group Cantoribus. Hamilton has fairly prestigious credentials: he studied singing with Benjamin Luxon, Teresa Cahill and Janice Chapman; he studied composition with Paul Edlin and jazz piano with Lionel Grigson. Hamilton has written a substantial body of choral and sacred music, and has also composed orchestral works and film and television scores. From the evidence here, I would say that Hamilton appears to be a talented composer and his choral group sings with commitment and great beauty.
According to the album notes Hamilton composed the music on this disc "to reflect some of the feasts and seasons of the liturgical year," but with no chronological scheme in mind. It is sung a capella, as are the works by Stanford and Adam. Hamilton's music is conservative in its expressive manner but not without grit and mettle. While much of it is very lush and fluid, and maybe even serene, it often features an anxious or unsettled sense especially in faster-paced middle sections or in upward melodic surges or even in harmonies that strike you as slightly cool emotionally when heard against their warmer main line. Crucifixus may be the piece here that embodies many of these stylistic elements. It begins in a restive way with the word "Crucifixus" sung repeatedly. Soon it is proclaimed loudly and emphatically, almost as if shouted, and then the character of the music turns both dark and ethereal. A sense of struggle ensues but finally a consoling character emerges at the close. Here in this short work (3:44) a whole world of emotion and religious fervor is effectively conveyed. The Lord's Prayer that follows is one of the more serene works here, but even it has an edginess in the angular melody lines and some of the harmonies.
Notable here is In remembrance, which features soprano Elisabeth Meister. The writing is beautifully imagined and the whole thing is rather ecstatic in character. While Ms. Meister does reasonably well, in louder moments her voice seems to turn a little harsh and piercing. Still, she delivers a good measure of passion and commitment to offset what is ultimately a minor problem. Collectively, all the other singers sound quite fine throughout the recording. Most of the other Hamilton works are well crafted and artistically worthy efforts. The Stanford Beati quorum via is a lovely motet (#3 from his 3 Latin Motets) and the Adam O Holy Night arrangement is also quite beautiful, though I'm not sure it's a rendition that stands out among other arrangements of this popular Christmas carol. I'll say this though: it gives a somewhat profound dimension to the work.
As suggested above, the Cantoribus singers consistently turn in fine work throughout the disc. The sound reproduction is fine and the album notes are informative. Full texts are provided too. Now, you ask, is Timothy Hamilton a major composer? Perhaps the jury will have to remain in session for a while, but from what I've heard here I can say he is an imaginative and stimulating composer of sacred choral music whose style is quite individual within its conservative character. The forty-five minute timing of the CD may be on the paltry side, but if you are interested in contemporary sacred choral music, this disc should prove of considerable interest.
Copyright © 2015, Robert Cummings