Related Links
Recommended Links

Site News
CD Review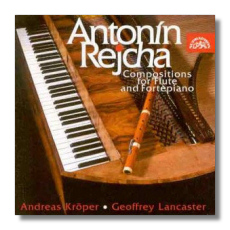 Sonatas for Flute and Piano
Sonata in E Major for Piano & Flute, Op. 54
Grand Duo Concertant in D Major for Flute & Piano, Op. 103
Andreas Kröper, flute
Geoffrey Lancaster, fortepiano
Supraphon SU3496-2 DDD 63:09
The flautist (baroque & jazz!), conductor & musicologist Andreas Kröper (encountered conducting Haydn and Mozart operas in Switzerland) is an astonishing man; this below is a comment from a lengthy interview on his website:
– Is Antonín Rejcha merely a forgotten composer or is he relevant today?
Above my desk hangs a large picture frame, containing a piece of green paper with a quotation of tremendous wisdom. It is a quotation with a warning and it is surprising for its timelessness; two hundred years after it was made it has not lost any of its meaning. The quotation is embarrassing, because it shows us where we are.
It goes: 'When art achieves a high degree of perfection, when it becomes the property of a nation, when the whole world, in fact, is concerned with it, then it has also reached the point where it begins to go backwards. People lose their sense of taste, misuse art and their own talent. That is the beginning of the realm of exaggeration and false splendour. Art is degraded and desecrated. It is a misfortune that one's hearing becomes accustomed in equal measure to bad music as well as to good. For everybody to consider himself to possess infallible judgement is not only laughable; it is also extremely detrimental to art. Composers who depend on public opinion sacrifice their interest in art in order to appeal to the crowd.'
These words were written in 1813 by none other than Antonín Rejcha
Antonín Rejcha (1770-1836), Prague-born friend of Haydn, Salieri, Beethoven, et al, was a serious minded composer who resisted the virtuoso-frivolity fashionable in his time. Known for his many wind quintets and his forward looking 36 Fugues, which I have enjoyed playing, these are two excellent and representative works given here on one-keyed flute (Greve, c.1800) and fortepiano (Weiss c.1820) which eclipse any performances on modern instruments.
Kröper is a historically aware musician who takes a very serious view of his responsibilities towards his chosen composers. These sympathetic performances in close rapport with Geoffrey Lancaster are carefully balanced on suitably chosen instruments and should give everyone with open ears great pleasure. The sonata (c.1804) is fairly simple, in keeping with post-Mozart Viennese taste, and the Duo Concertant of some 16 years later is more emotional and experimental.
See Andreas Kröper's discography which includes a video/DVD of his own edition of Mozart's Zauberflöte given in Prague. For the coming Mozart 250th birthday celebrations he will be touring his reconstruction of the completed Za´de, previewed at Arosa this summer.
Copyright © 2005, Peter Grahame Woolf