CD Review
Sonatas for Flute & Piano
Sonata in G Major for Piano & Flute, Op. 54 (c. 1802)
Grand Duo Concertant in D Major for Flute & Piano, Op. 103 (c. 1818-1824)
Four Fugues for piano (1799-1803):
#1 in A Major
#3 in F minor
#9 in G minor
#14 in D minor
Yoshimi Oshima, flute
Jaroslav Tuma, fortepiano
ARTA Records F1 0096-2 DDD 77:45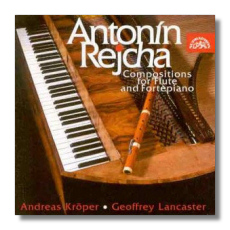 Sonata in E Major for Piano & Flute, Op. 54
Grand Duo Concertant in D Major for Flute & Piano, Op. 103
Andreas Kröper, flute
Geoffrey Lancaster, fortepiano
Supraphon SU 3496-2 DDD 63:09
It's ironic that after nearly two centuries of neglect, Anton Reicha's flute sonatas should enjoy their second recording only two months after their first. But while both performances include period instruments, their approaches to the music diverge in revealing ways. Approximately twenty years separate the composition of the two works, thus usefully illustrating the evolution of Reicha's skills as a composer. The G Major Sonata, published in 1805 under the title Sonata For Pianoforte With The Accompaniment Of Obligato Flute, Opus 54, was completed no later than 22 January 1803 – the date Carl van Beethoven, acting as his older brother's secretary, offered it to Breitkopf und Härtel, the eventual publisher. So the work was most likely written in 1802, during Reicha's first year in Vienna. His incipient mastery is evident in the ways he experiments with form. Pastoral in overall tone, the piece is dominated by the opening Allegro, which is large in scale – both performances clock in at just over eighteen minutes. A series of diverse episodes are framed by a recurring walking-rhythm motif, and Reicha manages to vary the order and inflection of his reprises in such a way that we hear each theme in close juxtaposition with every other. Though the flute contributes to the musical discourse in a variety of ways – leading playfully, recalling an earlier mood, undermining or reinforcing a rhythm – the piano predominates, introducing most of the themes and directing their development, sometimes taking long solos. The melodies are sprightly and often memorable.
By the time Reicha wrote the D Major Grand Duo Concertant For Flute And Piano, sometime between 1818 and its publication by Zetter in 1824 as Opus 103, much had changed. After settling permanently in Paris in 1808, he had written two well-received musical treatises that helped secure his appointment in 1818 as Professor of Counterpoint and Fugue at the Paris Conservatoire. More importantly, he had written a huge quantity of music, including most if not all of the 24 wind quintets for which he is best known today. As might be expected, his consequent growth as a composer is readily apparent in the Grand Duo. Harmonically, he ranges more widely than in the earlier work, but with greater economy of means; his themes, for all their variety, are deeply interrelated, and much more compelling. One stylistic signature found in many of Reicha's late works, and included in the Duo's opening movement (the minuet of the Oboe Quintet provides another example), is a type of melodic phrase that's not quite palindromic: where the first half is in the major, the second half, while otherwise correctly mirroring the first, is shifted into the minor; the effect is quite striking. Reicha also sharpens the contrast between movements, especially between the almost Beethovenian thematic compression of the opening movement and the darkly Romantic expansiveness of the Lento second movement. In the finale, the piano creates harmonic islands bridged by the flute's capricious melodies, which are constantly recast in the light of remote tonalities. The bizarre key scheme is typical of Reicha's fondness for experimentation, and yet he makes it work. Indeed, I count the Grand Duo as being amongst his finest works, and as such a genuine masterpiece, if a deceptively congenial one.
Of the two CDs under review, the Oshima and Tuma recording on ARTA is the world première. It is also the better performance and recording, though Kröper and Lancaster have much to offer. Yoshimi Oshima uses a modern flute (by Muramatsu & Sankyo) when accompanying Jaroslav Tuma's McNulty copy of an 1805 Walter Sohn fortepiano. By contrast, Andreas Kröper plays on a one-keyed flute made by Andreas Greve in c. 1800 Mannheim, with Geoffrey Lancaster on a restored Jakob Weiss fortepiano from early 1820s Vienna. Though I happily admit to being a fan of period instrument performance, what's more important to me is the extent of the performers' emotional engagement, technical facility, and musicality, regardless of the instrumentarium. Nevertheless, Kröper's playing aside, I question the wisdom of his choice of instrument. By the early nineteenth century, five-key flutes were widely available, and we know that the flute-playing Reicha, when writing his wind quintets, took very explicit advantage of the latest technical innovations in woodwind construction, with all that that implied in terms of purity and color of tone, added range, and rapidity of execution. Though Kröper is a fine flautist, the effectiveness of his performance is undermined by his instrument, which is largely incapable of smoothly and elegantly executing music written for its more dextrous descendants. Where the one-keyed flute is well suited to the sonatas of Emanuel Bach, under Reicha's greater technical demands its darkly inviting sound is sometimes labored and screechy, in faster passages its articulation blurry, its intonation difficult to maintain. Though Kröper puts up a good fight, listening to his breathy performance is finally more a chore than a pleasure.
None of these problems attend Yoshimi Oshima or his flute. His playing is superb: pure in intonation, fleet, nuanced, rhythmically adroit, interpretively alert – qualities that well describe his partner's playing as well. Jaroslav Tuma's McNulty/Sohn fortepiano has a much firmer tone than many of the Anton Walter fortepianos so often featured on recordings, and it blends well with Oshima's silvery tones. But what makes the performance is the unanimity of Oshima and Tuma's teamwork: while they lovingly evoke the details of each musical episode, they never lose sight of the long line of the musical argument, clearly and compellingly revealing the music's often complex architectonics. By contrast, Kröper and Lancaster's performance, though often compelling, is occasionally marred by loose ensemble and rhythmic drag; they are at their weakest when it comes to evoking Reicha's overarching structures. But their approach is more romantic, with a judicious use of rubato; they find greater mystery in Reicha's music, especially in slower passages, something hushed and reverent. The Weiss fortepiano has a dark-hued quality that's very attractive, along with some lovely damping effects that Lancaster puts to good use.
As for sound, the Supraphon recording is a tad over-resonant, a tad too distant; the ARTA is clear and well-defined, close in with just the right amount of air around the instruments. Both CDs are elegantly packaged. Andreas Kröper's program notes for the Supraphon disc are elegantly written and full of telling insights into Reicha and his milieu; the ARTA notes focus more on the changing fortunes of the flute in Romantic Era chamber music. Both lack a detailed analysis of the music.
My recommendations? The ARTA disc offers the best value – in addition to fine performances of the flute sonatas, you get Jaroslav Tuma's probing account of four of Reicha's genuinely weird piano fugues, which makes this disc a good introduction to Reicha's unique musical world for those new to his music. But if, like me, you want to know Reicha's music through multiple interpretive perspectives, the Supraphon, despite its shortcomings, is well worth having too.
Copyright © 2000, Ron Drummond