Related Links
Recommended Links

Site News
CD Review
For Your Consideration: Symphony #9
Symphony #4 in E Flat Major "Romantic", WAB 104
Symphony #5 in B Flat Major, WAB 105 *
Symphony #6 in A Major, WAB 106 *
Symphony #7 in E Major, WAB 107 *
Symphony #8 in C minor, WAB 108
Symphony #9 in D minor, WAB 109 *
Vienna Philharmonic Orchestra/Wilhelm Furtwängler
* Berlin Philharmonic Orchestra/Wilhelm Furtwängler
Music & Arts CD-1209 Mono 5CDs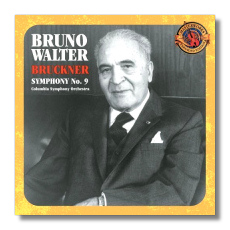 Te Deum in C Major, WAB 45 *
Columbia Symphony Orchestra/Bruno Walter
* Westminster Choir
* New York Philharmonic Orchestra/Bruno Walter
Sony 92737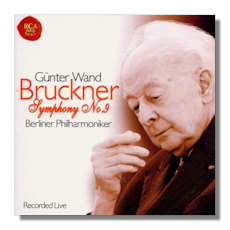 Berlin Philharmonic Orchestra/Günter Wand
RCA 63224 61:52
The idea for this journey began with a comment in American Record Guide where Stephen D. Chakwin Jr. opines "I write this (review of a recording of the music by Simon Rattle) as someone who believes that the 1944 Furtwängler Berlin performance of the three-movement version is the greatest orchestral recording that our culture has produced." Such hyperbole leads me to suspect. So I pulled out Bruno Walter's recording, my introduction to the piece and listed as the best recording in the last installment of the Penguin Guide to 1000 Best Recordings. Then I added the Wand recording since my impressions of it is that IT is the best recording of the piece.
I contacted Fred Maroth at Music and Arts and requested an updated mastering but checked with my original copy from 1992. Well, if you have that one it needs replaced. This new effort is superior in every way. In comparison the absence of surface noise and increased depth of perspective is amazing. You might suspect it is early stereo. It is certainly an impressive recording and arguably "the greatest". After listening to the Walter (below) this is a revelation. Here is darkness, passion, a Wagnerian depth and even anger. Inner details exposed; the transparency is amazing. I'd love to know who is playing the flute because he is imparting a zing in many of his recordings from the 1943-44 period. There's a Bruckner Ninth where the final movement feels like a parody on the words of Brotherhood, as if Hitler had rendered the whole feeling of poignancy that is tactile. This is a God that is awesome. I have noticed a similar feeling surreal and absurd. This is not a particularly friendly God and at times Bruckner seems to be arguing with the metaphysical existence. Furtwängler's way with Bruckner cannot be bettered except for sound.
The Walter recording from 1959 is one of those times when revisiting someone turns out to be a disappointment. It is immediately clear that the sound is thin and sounds like it's coming from a chamber orchestra. Frankly it sounds tired too. There are beautiful moments and the strings can sing but there's no depth of feeling. I don't get the sense of being in the presence of God like I do with Furtwängler.
Then comes the Wand and this is a whole other world. The sound of this 1999 performance in particular is drop dead amazing. You feel the strings emerge into a sound. While this recording is spiritual, I constantly feel like I'm in a cathedral, it doesn't have the fire, the apocalyptic vision of Furtwängler. When I started this project I had the feeling I'd like the Bruno Walter, prefer Furtwängler but that Günter Wand was, thanks to sound, the best. On listening to all three various times I've come to believe that Mr. Chakwin may be right.
(Aside: I also listened to Klemperer. While better than Walter I find much of Klemperer too much the Kapellmeister. His rhythms are too set.)
Music and Arts' set of 4-9 should be in every serious music lover's collection.
Copyright © 2013, Robert Stumpf II