CD Review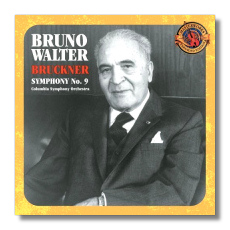 Frances Yeepnd, soprano
Martha Lipton, mezzo-soprano
David Loyd, tenor
Mack Harrel, baritone
Westminster Choir/John Finley
New York Philharmonic Orchestra/Bruno Walter
* Columbia Symphony Orchestra/Bruno Walter (1959)
Sony Masterworks Expanded Edition SK92737
I have told this story before, but it is so apt I will repeat it… besides maybe you haven't read it or have forgotten. Al Franz was a close friend of mine for several years. He had been manager of a record store in Columbus, Ohio for several years and stocked the finest classical collection in Ohio. The store was located across from Ohio State University and one afternoon whilst I was shopping there a young student came in. Al asked if he could help the man and he said he had heard some music by Bach the night before and wanted to purchase some. Al asked what he wanted and the student said, "Everything…" Al hesitated a moment and then took him over to the record racks, showing the student bin after bin of music. The student's eyes bugged out and so did he after a few minutes of thumbing through the LPs.
Anyway, some years later I would go over to Al's to listen to music. He was retired and lived alone in a nice condo. Al had a CD player but still maintained that LPs had a better sound. He had state-of-the-art equipment and listened only through headphones. He'd hand me a pair, put on the LP and we'd listen. I had to admit the records sounded better than I recalled and Al's equipment certainly had a lot to do with that. Al would smile and say, "There's more music in those grooves than we've heard before."
I think of this everytime I listen to releases like this. The 9th was originally released on CD as part of the CBS Masterworks "Odyssey" series. Later it was remastered as part of the Bruno Walter Edition. Now we have it coupled with the Te Deum. We also have it sounding better than before… more music in those tapes than we've heard until now. Part of this is due to the fact that it has been cut at a slightly higher level. You can take the previous releases and crank up the volume but it only makes it sound louder, you don't get the clarity and articulation you hear in this latest release using the latest technology. Not only that, the strings sound sweeter and the bass has a firm line that was cloudy before. The solo woodwinds are now deliciously alive whereas before they were so far inside the orchestra they could barely be heard. The whole thing transforms the experience to a riviting one compared to one that is frankly boring in the other releases.
Having the Te Deum added is a wonderful lagniappe. I first came across this piece of music when I got it coupled with Mozart's Requiem in the Bruno Walter Edition. It blew me away. I had no idea what to expect and frankly, particularly in the opening, it sounded more like Janáček than Bruckner. The sound here, again, is more defined and richer than the previous release. I do wish, however, that they had included the text but it wasn't in the previous release either (nor was the text for the Mozart).
If you already have the previous incarnations this is a significant improvement and, especially given the low cost, you should replace them with this issue. If you haven't heard Walter's Bruckner you are in for a performance that emphasizes not only the awe inspiring facet of God but His/Her humanity as well.
Copyright © 2004, Robert Stumpf II