Related Links
Recommended Links

Site News
DVD Review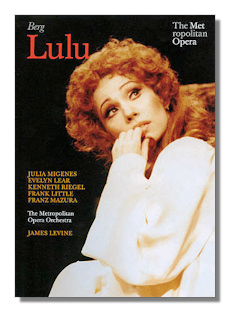 Lulu
Julia Migenes (Lulu)
Evelyn Lear (Countess Geschwitz)
Kenneth Riegel (Alwa)
Frank Little (Painter/African Prince)
Franz Mazura (Dr Schon/Jack the Ripper)
Metropolitan Opera Orchestra & Chorus/James Levine
Sony DVD 8869-791009-9 175min
Trying to give your views on an opera production that took place almost 31 years ago is indeed a challenge. During the last three decades the face of opera has changed beyond recognition, and today producers and directors alike try to ooze out every psychological detail, not only of the story but of each character in the plot. At the time of his death in 1935, Alban Berg left his second and last opera incomplete, and to this day "Lulu" still presents a formidable undertaking.
With its decadent and often violent elements, not to mention the dodecaphonic score, "Lulu" has never been a favourite with opera audiences, but for those who love a mind stimulating exercise, this version from the "Met", recorded live on the 30th of December 1980, will certainly find much to enjoy. The story is a profound study of a disturbed woman. Lulu's destructive nature and raw female sexuality push her towards the murder of all her lovers, with the exception of Countess Geschwitz. Eventually, she goes to London as a prostitute, where she is duly killed by Jack the Ripper. Not much fun, really, but Berg's music is able to penetrate into the very heart of this dark labyrinth of a soul tortured by its craving for redeeming love, and precisely it is this contrast of extremities that make "Lulu" so fascinating and compelling.
This fine John Dexter production has one of the most exciting casts ever assembled for this work. Evelyn Lear, Kenneth Riegel and Franz Mazura all give exemplary and committed performances, but Julia Migenes (a very famous Carmen) in the title role, is the one who really steals the thunder. Overwhelmingly passionate and searingly emotional, her "Lulu" is more of a victimized and weak human being rather than a vicious, vindictive woman set on destroying everything before her. Migene's brilliant portrayal almost makes one feel aggrieved at her tragic fate. Yes, when well interpreted "Lulu" can be this kind of opera. Magisterial conducting by James Levine and Brian Large's insightful direction complete a riveting DVD that has class written all over it. Not for the squeamish, but those that are inclined to invest will be thoroughly rewarded.
Copyright © 2011, Gerald Fenech