CD Review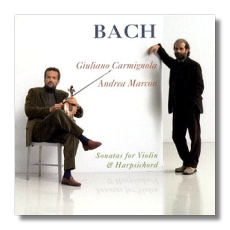 Sonatas for Violin & Harpsichord
Sonata for Violin & Continuo in B minor, BWV 1014
Sonata for Violin & Continuo in A Major, BWV 1015
Sonata for Violin & Continuo in E Major, BWV 1016
Sonata for Violin & Continuo in C minor, BWV 1017
Sonata for Violin & Continuo in F minor, BWV 1018
Sonata for Violin & Continuo in G Major, BWV 1019
Giuliano Carmignola, violin
Andrea Marcon, harpsichord
Sony Classical S2K89469 DDD 2CDs 43:03, 50:51
Bach wrote a great deal of chamber music, but there is evidence to suggest that his Sonatas for Violin and Harpsichord occupied a special place in his life. They probably were written around 1719, when Bach was employed by Prince Leopold of Cöthen. During that time, Bach was fortunate to have access to a new German-made harpsichord, one whose capabilities exceeded those of instruments he had previously used. As a result, Bach went through an active period of writing solo works for harpsichord. Additionally, in his chamber works, he gave a more prominent role to the instrument, which often had been assigned a subordinate continuo role in his earlier chamber music.
These six sonatas reflect Bach's increased interest in the harpsichord. If the fact that he revised them at least twice means anything, he took a perfectionist's pride in these works. In fact, according to one of the composer's sons, Bach was working on them "just before he died" – an interval of about 30 years since they first were composed. They are unusually expressive works, characterized by soulful slow movements and appealing, intellectually stimulating fast movements. Bach's well of melody flowed generously as he wrote these inventive works. With the cello suites and the solo violin sonatas and partitas, they form a triptych of Bach at his most concentrated and intimate.
Carmignola and Marcon have released splendid Vivaldi CDs for Sony Classical (SK51352 and SK89362). Marcon is the founder and conductor of the Venice Baroque Orchestra, and Carmignola frequently has been featured with that ensemble. Here Marcon excels as a harpsichordist. He plays a reproduction of an instrument probably quite similar to that which Bach played in Cöthen. Carmignola plays an 18th-century Italian Baroque violin by an anonymous maker.
The playing on this pair of CDs is as warm and expressive as it can get without becoming anachronistic. Carmignola's instrument has enough "vinegar" in its timbre to balance the violinist's interpretive sweetness. His instrument is particularly imposing on the lower strings, which have a viola-like richness. Marcon asserts himself and reveals the care that Bach took over the harpsichord writing in these works. It is a joyous thing to hear Marcon and Carmignola in dialogue, passing ideas back and forth just like master tennis stars engaged a hot volley. The only drawback is that some listeners will find the occasional slow movement too expedient.
Sony Classical's team recorded this disc in Italy in 2000. Fine, balanced sonics and an attractive, informative booklet make this release an irresistible find.
Copyright © 2002, Raymond Tuttle