Related Links
Recommended Links

Site News
CD Review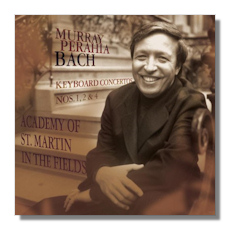 Piano Concertos
Concerto for Keyboard #1 in D minor, BWV 1052
Concerto for Keyboard #2 in E Major, BWV 1053
Concerto for Keyboard #4 in A Major, BWV 1055
Murray Perahia, piano
Academy of St. Martin-in-the-Fields/Murray Perahia
Sony Classical SK89245
In the earliest days of the new century, Murray Perahia set down some stunning Bach performances for Sony Classical, including a benchmark Goldberg Variations and some very fine concerto discs. As both soloist and conductor, Perahia makes a very convincing case for these pieces on the modern piano, assisted by the very fine accompaniment of the Academy.
Right from the start of the famous D minor concerto, you hear a successful partnership in the making. Perahia phrases his solo lines with the utmost care and intelligence, weaving in and out of the excellent orchestral framework. The strings play with a welcome warmth, but also with a sense of strength and purpose that belies the lack of a conductor. Perahia has made a habit of conducting most of his work in the Baroque and Classical period from the keyboard, and it always turns out to be a rewarding choice. Unlike some "authentic" performances, nothing is ever too steely or harsh, and great pains are taken to ensure a genuine give and take between soloist and ensemble.
For the period instrument folks, I continue to suggest the terrific Pinnock performances on DG's Archiv line, especially for the first-rate solo contributions and huge amount of music you can acquire for a small price. Still, if you find a pianist like Glenn Gould a touch mannered and self-indulgent, and the prospect of Angela Hewitt's Bach series to be daunting, I can heartily suggest this wonderful disc for all music lovers.
Copyright © 2014, Brian Wigman