CD Review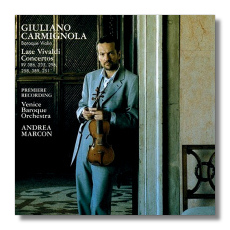 "Late" Violin Concertos
Concerto in B minor, RV 386
Concerto in D minor, RV 235
Concerto in F Major, RV 296
Concerto in E Flat Major, RV 258
Concerto in B minor, RV 389
Concerto in E Flat Major, RV 251
Giuliano Carmignola, violin
Venice Baroque Orchestra/Andrea Marcon
Sony Classical SK87733 DDD 71:48
Carmignola and Marcon claim "première recording" status for these six concertos, and there's not a dull one among them. Benjamin Folkman's booklet notes do not justify why these are "late" concertos. At any rate, dating Vivaldi's works often is very difficult. At best, I'd agree that they are stylistically consistent with works known to be written in the latter years of Vivaldi's career. (The "RV" numbers are for cataloguing, and tell us little about chronology; a low RV number may belong to an early work as well as to a late one.)
The first concerto presented here, RV 386, will remind many listeners of "Winter" from The Four Seasons – the soloist certainly presents a stormy aspect here, but one that is touched, at the same time, with a little malicious glee. All of the minor-key concertos are full of drama, however, and the musicians relish their opportunities to send little shivers of delight down listeners' spines. Another delight is the appearance of the archlute, the theorbo, and the Baroque guitar, particularly in the slow movements, where their mellow plucking ticks off the gentle seconds. It's enough to make one heave a sigh of relief after a busy or stressful day at work.
The ensemble is delightfully throaty on this CD. Marcon emphasizes the bass voices: the cellos rumble along like fullbacks at a college football game, and the harpsichord's lower register is attacked with something akin to violence. There's a lot of feline pouncing on cadences here. If it were more exaggerated, I'd suggest that Marcon was imitating Harnoncourt, but I think he's just very excited by the music, and can't resist conveying that excitement to the listener. Carmignola, a pupil of Milstein and Szeryng, among others, is perfectly partnered by Marcon. The violinist's attacks are strong, and while he plays beautifully, this is hyper-masculine musicianship. Marcon and Carmignola have teamed up for other Sony Classical releases, including two other Vivaldi discs (one that includes The Four Seasons), and Bach's Sonatas for Violin and Harpsichord. All are outstanding, and the present CD is cut from the same cloth. Sony is extremely fortunate to have signed Carmignola and Marcon to the label. I hope they make dozens of recordings for Sony.
The recording was made in Manzano (Undine), Italy, and makes use of 24-bit and DSD technology. The sound is outstanding – conveying detail, space, and weight.
Highly recommended.
Copyright © 2002, Raymond Tuttle