Related Links
Recommended Links

Site News
DVD Review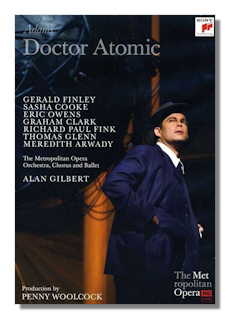 Doctor Atomic
Gerald Finley (Robert Oppenheimer)
Richard Paul Fink (Edward Teller)
Thomas Glenn (Robert Wilson)
Sasha Cooke (Kitty Oppenheimer)
Eric Owens (General Leslie Groves)
Earle Patriarco (Frank Hubbard)
Roger Honeywell (Capt. James Nolan)
Meredith Arwady (Pasqualita)
The Metropolitan Opera Orchestra, Chorus & Ballet/Alan Gilbert
Sony DVD 88697-80665-9 2DVDs 171m
Broadcast live in HD on 11th October 2008, this Metropolitan Opera Production by Penny Woolcock is a resounding success on all fronts, and a marked improvement on the 2005 Opus Arte version from the Holland Opera. Although the Peter Sellars' libretto has its flaws, the music by John Adams captures all the tension and excitement of the Robert Oppenheimer story, and how he finally managed to harness atomic energy and turn it into a weapon of mass destruction.
All the main singers are on top of their mettle and performances are consistently engrossing and emotionally involving. Gerald Finley and Sasha Cooke as the Oppenheimers are particularly outstanding, especially in the bedroom scene where a moment's relaxation is never allowed to intrude. Donald Palumbo and his extraordinary Met forces bring out all the telling effects of this quite unique score, which is full of innovative touches and yet constantly faithful to the rhythmic and harmonic language of the past romantic masters.
Sets (Julian Crouch), costumes (Catherine Zuber) and choreography (Andrew Dawson) are all impressively simple, but the main accolade of the production team must surely go to Gary Halvorson for his impassioned and astounding direction, which catches every twist and turn of events with gripping effect.
Apart from the show itself, this issue includes backstage interviews with Gerald Finley and John Adams, and a short feature film: "Robert Oppenheimer – In the Shadow of the Bomb", two bonus items which should help the viewer's appreciation of this modern masterpiece. An informative booklet coupled with sumptuous sound and visuals complete an exhilarating album dedicated to, maybe, America's greatest contemporary composer.
Copyright © 2011, Gerald Fenech