CD Review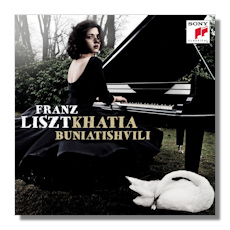 A Faustian Dream
Liebestraum #3 in A Flat Major, S. 541/3
Piano Sonata in B minor, S. 178
Mephisto Waltz #1, S. 514
La Lugubre Gondola #2, S. 200/2
Prelude & Fugue in A minor, S. 462/1 (after J.S. Bach, BWV 543)
Khatia Buniatishvili, piano
Sony Classical 88697-76604-2 w/ Bonus DVD: A Faustian Dream (Excerpts - Sonata in B minor)
Capsule summary: arresting pianism; even Liszt might have been impressed.
Franz Liszt is not a favorite composer of mine. A rave review of a new recording of Liszt piano music is the last thing I would have expected myself to be doing right now, especially on my own initiative. The fact that I am doing so is a matter of chance. Last week, while driving from Cleveland to Wisconsin I happened to tune in to a program of new releases broadcast by an NPR station in Toledo, Ohio, and one of the pieces selected that day was Liszt's Mephisto Waltz #1, played by this young pianist from Tblisi. The performance was startlingly brilliant in its clarity of voices and its intensity.
Khatia Buniatishvili's playing is arresting not only in bravura passages of the sort one naturally associates with this composer but also in her playing of gentle and hushed passages – the kind of combination which so stood out in the playing of Van Cliburn decades ago. She segues from one mood to another, in the sonata particularly, most convincingly. She always holds my attention. And nowhere on this disc is there the smallest smudge of muddy playing or recording. Both performance and recording are crystalline throughout You need not even like Liszt to admire much about these performances. (I am personally reminded of what I heard Charles Rosen say at the beginning of a series of lectures at Harvard in the 1980"s, that Liszt is a composer that pianists love to hate but love to play.)
Khatia Buniatishvili certainly does not hate this music. She strongly identifies with the music of Liszt, who represents her idea of musical completeness and pianistic perfection, going so far as to say that "only he would enable me to present as a unity the many aspects of my soul."
Buniatishvili has been performing with orchestra since she was six years old, and has played in eight European countries, the United States and Israel, where she won a number of awards. Other honors include the BBC New Generation Artists designation, and BBC Radio co-produced this release, and an award from the Borletti-Buitoni Trust. Upcoming appearances include Tokyo, Sydney and London.
It may be that, as Anthony Tommasini said in the New York Times on August 12, 2011 that virtuosos are "becoming a dime a dozen," but Buniatishvili's musicianship is far more than virtuosic. Hers is a career that is definitely one to watch.
The brief bonus DVD, made in the EU but playable in North America on the copy I received, is a presentation representing Marguerite, Mephisto and Faust in a manner I am not prepared to comment on. But I can strongly recommend the release to anyone interested in Romantic piano music or brilliant musicianship.
Copyright © 2011, R. James Tobin