Related Links
Recommended Links

Site News
CD Review
Living Stereo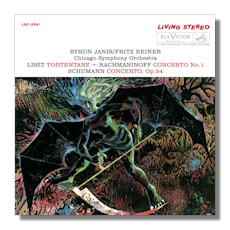 Byron Janis, piano
Chicago Symphony Orchestra/Fritz Reiner
Sony Originals 88765456712 71:41
The main attraction here is the Schumann, which outside of the big Janis and Reiner sets, can only be found here. Reiner recorded this work with the more famous Van Cliburn, and RCA basically forgot about this performance, not releasing it for years. It's little wonder that Janis would record the work again for Mercury, and that reading has popped up now and again on CD. Janis' conceptions don't vary all that greatly between the two, though the Chicago Symphony under Reiner is – if not better – more engaged here than on his later account with Cliburn. Those who own the Mercury version may not need this one, but fans of Janis will be happy to have it so readily available.
This "Rach 1" last appeared on a Living Stereo issue in tandem with the pianist's first reading of the same composer's Third Concerto with Munch and the Boston Symphony. Again, Janis' Mercury versions of both works are extremely fine, but there's something fun in hearing Reiner and his orchestra in this music. Remember, in those days, Eugene Ormandy and his Philadelphians ranked as the orchestra of choice in this music (and indeed, their recordings with Entremont remain justly acclaimed), but Chicago is nothing to sneeze at. Again, it really doesn't differ too much from the excellent Mercury version, but once again proves to be of great value.
As far as I can tell – I don't own the box – the complete Janis recordings on RCA feature two versions of the Liszt, both with Reiner in Chicago. God knows why, but the account here is the same featured on my dusty (but trusty) copy of "The Reiner Sound" on RCA Living Stereo. It's also included in Sony's often-unobtainable Liszt mega-box. I don't need three separate instances of the same recording, and you don't either. What you do need to know is that if you care about the piano or the composer, this has been a classic since the day it came out, and testifies to the gifts of both pianist and conductor. That applies to the whole disc. Really, I think this is a specialist item, particularly if you can find the box with Janis' excellent Mercury concerto albums. But if you want to explore a unique artistic partnership – not to mention wonder what would have been if Van Cliburn hadn't rocked the world and taken over RCA – by all means enjoy the great playing on display.
Copyright © 2016, Brian Wigman