CD Review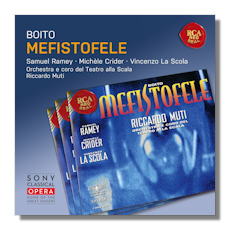 Mefistofele
Michele Crider, soprano (Elena/Margherita)
Eleonora Jankovic, mezzo soprano (Martha/Pantalis)
Vincenzo La Scola, tenor (Faust)
Ernesto Gavazzi, tenor (Wagner/Nereo)
Samuel Ramey, bass (Mefistofele)
Milan Teatro alla Scala Orchestra & Chorus/Riccardo Muti
Sony Classical 88985334942
Arrigo Boito (who lived from 1842 to 1918) was an Italian poet, journalist and novelist. But he is best known as the librettist of Verdi's Otello and Falstaff. He was also an accomplished composer… as this excellent recording of the only opera he finished, Mefistofele makes clear.
There are a dozen and a half recordings of Mefistofele, which is based on Goethe's Faust and had its first performance in March 1868 at La Scala. That première (which Boito conducted) wasn't well received – the police closed it after only a couple of performances. Verdi himself famously commented "[Boito] aspires to originality but succeeds only in being strange". There were criticisms that Mefistofele was too much like Wagner, for instance. As a result it was withdrawn and reworked to be much shorter and to have Faust "recast" as a tenor, not a baritone. The performance in April 1875 went much better for all concerned, including Boito.
Mefistofele has been known from extracts such as the prolog set in heaven and the two tenor arias which Caruso chose for his very first recording. Only a few minutes listening to this splendid and dramatically engaging performance, though, are needed to convince the listener that it's a work of substance, significance and beauty. This Sony issue is (from) a live recording in 1995 at La Scala. The three principals shine – especially bass Samuel Ramey (Mefistofele) and soprano Michele Crider (Margherita/Elena), with tenor Vincenzo La Scola as a decidedly "secondary" Faust– remember the elevated prominence that Boito gave to Iago in his libretto for Otello. Riccardo Muti conducts the Scala Choir and Orchestra, who are on great form: punchy, precise and packed with passion.
Changes in dynamic – such that those as the Second Act gets under way [CD.2. tr.s 1,2] and we have settled in to observe the fate of Faust – are never gratuitous; they're subtle and add to the tension; more as in Puccini than Verdi. The balance between principals/soloists and choir/orchestra is handled particularly well. Solo winds can be heard in every breath – as can the shades of emotion from the singers. But there is a wholeness to Muti's sense of how the drama should unfold and make its impact which works well in a possibly otherwise unfamiliar work. No-one holds back to make the delivery at all anodyne, though: listen to the wrenching duet, "Salvala!", [CD.2 tr.6] to hear true Verdian grand emotion.
Similarly, Muti's grasp of the structure, of the architecture across the four acts, with Prolog and Epilogue (which is so essential when character is fate) is magnificent. This opera would not work if it were treated as a series of numbers. There has to be tension, unfolding, predicted disaster and nemesis. Reflection backwards. Muti knows how these work; his tempi emphasize the passage of experience and regret. This is not, though, a work of pure rhetoric or morality. There are artisan &ndsah; never artful – touches throughout… the boat on the Night of the Classical Sabbath [CD.2 tr 10] is justifiably silver and we see the intricacies of the scene; Margherita's final rejection and condemnation of Faust [CD.2 tr.9] is visceral… "mi fai ribrezzo"; practical obstructions are introduced and dealt with as would be very real in Medieval provincial Germany… the sleeping draft which Faust induces Margherita to give to her mother so that the lovers can be alone [CD.1 tr.14]; and so on. We find the action as credible as is loss both inevitable yet devastating.
There is no lack, though, of delicacy and nuance. Listen to the touching "Sediam sovra quel sasso" [CD.1 tr; 9], for instance; menace and purpose vie with a kind of purity that lies at the heart of the dilemma explored by Goethe and which is surely the drama's chief purpose. There are times when one is reminded of the vigor and even the grandeur of Verdi… especially the duets between Mephistopheles and Faust such as "Strano figlio del caos" [CD.1 tr.13]. This power struggle which is at the center of Goethe's conception is well understood by Boito. So respected by Ramey, La Scola and Muti… they give these scenes bite, momentum and just the direction they must have without even hinting at the histrionic, or concocting gesture for gesture's sake.
Muti is expert here at contrasts. At numerous moments and passages throughout the opera Boito moves from the gentle exposure of protagonists' inner thoughts and feelings to mass scenes with townsfolk, students, miscellaneous voices and combinations thereof. These have to be equally sensitive transitions; if not, the work becomes a series of passages where the listener has to make undue effort to unite them. Boito's handling of light and shade is easy to respond to. So it's equally easy to overplay it. Muti avoids this entirely. Even the most strident of arie has just the right balance between declamation and reflection.
The drama has to show its integrity and structure. Faust's life, after all, is a series of progressions, drives, regrets, ambitions and attempts at gain. Although Mephistopheles always has the upper hand, Faust is a worthy "opponent". Boito captures the risings and fallings, the destinies and predictable outcomes of the pact made between these two. For it to have any force, let alone credibility, there has to be a reasoned continuity. This is precisely what Muti achieves here.
Yes, Mefistofele is inevitably in the nineteenth century Italian operatic tradition. But it is indeed closer to Verdi, not Rossini or Donizetti. While not so durchkomponiert as Wagner, there is a wholeness which must be brought out for the characters to relate to us. This is just what Muti succeeds in building with his singers. In ways perhaps similar to the operas of Weber, who looked ahead, Boito looked back and so made his operas difficult to define. For an Italian – however cosmopolitan – to have real empathy with such a Germanic theme as Faust could be thought difficult. In this recording Muti and his singers have accommodated, submerged or absorbed potential discrepancies without merely ignoring them; it will satisfy on all levels.
The acoustic of the two Sony Classical Opera CDs enhances the tensions, inevitabilities and – really – the tragedy of the work. The "restricted" nature of La Scala's sound is captured balancing a "managed" spaciousness with that venue's definite aural focus. The 16-page booklet that comes with the set carries only listings of the cast, tracks and a brief synopsis. Given Boito's place in Italian operatic history and the ways in which Mefistofele can stand in its own right – as Muti and his forces ensure that it does here – fuller exploration of the opera's strengths would have been useful. The break between Acts One and Two at the end of CD 1 is unfortunate if you don't want to program your player… but then the first scene of Act Two is over ten minutes long. This recording claims very fairly to be a key one; one which can hardly fail to delight and should be considered a first choice.
Copyright © 2016, Mark Sealey