CD Review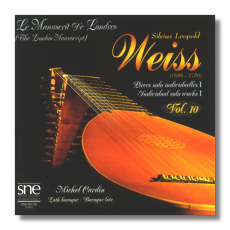 The London Manuscripts
Volume 10
Minuet in F Major I
Minuet in F Major II
Gavotte in F Major
Gavotte et Double in D Major
Prelude in B Flat Major
Ouverture in B Flat Major
Courante in B Flat Major
Bourrée in B Flat Major
Allegro in G Major
Courante Royale in G Major
Prelude in E Flat Major
Minuet in G Major
Fugue in C Major
Fugue in D minor
L'Amant malheureux
Fantaisie in C minor
Minuet in B Flat Major
Plainte in B Flat Major
Tombeau sur la mort de M. Cajetan Baron d'Hartig
Bourrée in C Major
Minuet in C Major
Michel Cardin, Baroque lute
Société Nouvelle d'Enregistrement SNE-650-CD


Volume 11
Gavotte in D minor
Minuet in D minor
Prelude and Fugue in E Flat Major
Minuet and Trio in G Major
Bourrée in F Major
Tombeau sur la mort de M. Comte de Logy
Prelude in C Major
Fantasy in C Major
Minuet in C Major
Gavotte in D Major
Capriccio in D Major
Minuet I in D Major
Minuet II in G Major
Madamoiselle Tiroloise
Concert d'un luth et d'une flûte traversière, S-C 6
Michel Cardin, Baroque lute
Christiane Laflamme, Baroque flute
Société Nouvelle d'Enregistrement SNE-655-CD


Volume 12
Lute Concert in B Flat Major, S-C 8 (by Sigismund Weiss)
Lute Concert in F Major, S-C 9
Lute Concert in G minor, S-C 14
Lute Concert in D minor, S-C 20
Michel Cardin, Baroque lute
Christiane Laflamme, Baroque flute
Société Nouvelle d'Enregistrement SNE-660-CD

(All CDs also available from Michel Cardin.)
The last three CDs in this welcome survey of the London Manuscripts by late Baroque composer Silvius Leopold Weiss (1687-1750) keep up the same high standard as achieved by the earlier nine disks. On CD 10 Cardin is alone playing a Baroque lute from the late 1970s, a reproduction by Matthias Durvie of an instrument by J.C.Hoffman from the early eighteenth century. On CDs 11 and 12 Cardin's lute is by Nico van der Waals from 1982 after a lute also by Hoffman from c.1730; and he is joined by Christiane Laflamme, who plays a Baroque flute by Alain Weemaels with a flute from 2000 after G.A.Rotternburg (1709-1790). The contribution of the flute is tender, sensitive and both leading as well as complementary. Laflamme's playing is intimate, restrained and full of expression. When required she is at one with Cardin – in the second movement of the Concert d'un luth et d'une flûte traversière, S-C 6, for example. When required she makes more of the running. After so much solo lute music, one might expect the stringed instrument to retire shyly in deferential relief. But No: it holds its own in what is really a pleasing and fresh sound full of melody and forward-striking tempi. So these last three CDs are a little different from the others so favorably reviewed here in recent months. But every bit as worthy of attention.
There is still very much the sense of being offered (not overhearing) a labor of love on Cardin's part. Indeed, as the celebrated Canadian lutanist points out in his exhaustive essays that are included in the CDs' booklets, there are occasions when it has been necessary for him to complete and re-edit (sections of) Weiss' manuscripts.
The temptation is perhaps to think that there must be a sameness, a restricted appeal, to yet another three and a half hours of a total of over 15 hours' worth of solo lute music from a figure whose output isn't known to so many as clearly it should. Remarkably this isn't the case as you sit down to listen to even a very few of the varied, original and highly inventive pieces here. Indeed, one aspect of Cardin's achievement is to make the creativity and heterogeneity of Weiss work so apparent. Even though Weiss worked so consistently using dance movement, duo (concert) and similar intimate, small scale forms, they expand to fill a world of emotion and thought. The melody, drive and sober ingenuity of, say, the "Courante Royale in G Major" [Vol.10, tr.10] is intriguing, full of surprises; yet lacks bluster. Rather, it emphasizes great sensitivity and bears repeated listening. Cardin has the music's measure here – as in all such pieces – and exposes the unwary listener to its wonders as though they were every day fuel to a very warm and inviting flame.
It is to be remembered that there are now no fewer than three cycles (complete and projected) of Weiss' lute music in the catalog:
Robert Barto's on Naxos, of which a dozen discs are now available

Yasunori Imamura's on Claves, of which we so far have a couple of discs, which was favorably reviewed too

and the present one by Michel Cardin's on sne – of the London Manuscript. All twelve of the series are available already; it is the most complete and systematically recorded.

In these three final volumes there is no sense of scraping the barrel. True, Cardin has programmed groups of single dance movements on Volumes 10 and 11 and the four concerts on Volume 12. But this is a happy way to finish the series: from some of the sequences of individual movements complete Suites can be constructed in skeleton. Volume 10 was recorded on two occasions – in January and March (of 2002), during which time new lute strings had become well used, so the sound is markedly different. Throughout the series it's been obvious (even to non-players) how intimately an understanding, or at least an awareness, of the mechanics and particularities of the instrument to hand determine and enhance appreciation of Weiss' music.
Weiss is a players' composer to be sure. But this is not to say that "lay" listeners can't enjoy and marvel at his imagination and originality. Especially when the playing is by a performer as dedicated and fluent as Cardin. The gentle and poignant L'Amant malheureux [Vol.10, tr.15], for example, contains a whole world: every note counts, every nuance offsets every other, every harmonic tells a tale… almost as in a Schubert Lied. Equally remarkable is the Fantaisie in C minor [Vol.10, tr.16], redolent yet again of Bach! Indeed, this section of the disc contains a sequence of slow, thoughtful, melancholy pieces culminating in the Tombeau sur la mort de M. Cajetan Baron d'Hartig [Vol.10, tr.19]. Cardin brings out the delicate yet searing qualities of such striking pieces with a sensitivity and deftness that's only borne of lengthy and concentrated reflection on their deeper workings and (hence) deeper meanings.
Volume 11 breaks new ground for this series, then, by including the flute of Christiane Laflamme in the last four moevements [tr.s15-18]. Also Canadian, she has performed with a number of north American Baroque ensembles including Aradia in their Naxos Castor et Pollux (Rameau). The dozen and a half movements on this CD are as remarkable as any for the sheer variety of moods, temperaments and feelings evoked: austerity, rejoicing, majesty, playfulness, serenity, quirky, confident, reticent. In a perverse way, Volume 11 would make an ideal introduction to Weiss' œvre. Attention should be drawn to the Minuet and Trio in G [tr.4]: it has been claimed that Weiss could not have composed it&helip; inferior technique, insufficiently challenging etc. Cardin writes of how he too held such a view – until he played it! Equally worthy of our admiration is the Tombeau sur la mort de M. Comte de Logy [tr.6]; Logy was a lutanist who inspired and influenced Weiss. A piece long associated with Julian Bream, it clearly means a lot to Cardin and may stand to epitomize the subtlety, profundity and creativity of this neglected composer.
Volume 12 contains the four pieces that comprise the final segment of this long and pleasing journey. In alluding to something of a revival of more general interest in Weiss, Cardin makes the point that the composer's chamber music stands well in comparison with that of his contemporaries. But the breadth and depth of the world of his solo music (and to a portion of which this excellent SNE series has been dedicated, of course) may yield just as much, if not more. But efforts to accord the Weiss solo œvre appropriate status are somewhat hampered because there are few comparable bodies of contemporary compositions, those of Handel, Bach and Telemann notwithstanding. This is all satisfying music nonetheless. Note that the Concert in B Flat Major S-C 8 [tr.1-4] is actually by Weiss' brother, Sigismund (c.1695-1737).
Volume 10 also contains a reproduction of portrait by Georg Platzer (1704-1761) which Cardin conjectures may well be of Weiss himself; it's accompanied by a useful and illuminating essay (by Jean-Luc Bresson). Interestingly, too, Cardin points out that the tablature (the scheme of notation which uses finger positioning on the strings, rather than notes on a staff) of these manuscripts suggests that Weiss had long, thin fingers. Could that impart account for the seemingly unstoppable flow and openness of most of this music? A biographical note in the booklet for Volume 11 also refers to recent work which confirms that Weiss was born in 1687 in Grotkau (and not in 1686 in Breslau). Usefully, Cardin also outlines the pre-eminent position which Weiss must now be accepted as holding musicologically in terms of the advances in instrumental aesthetics: he must have been writing for lute knowing that harpsichordists (and eventually pianists!) were emulating the instrument. It is also to be noted that Weiss played his duos in Dresden with Pierre Gabriel Buffardin (1690-1768), who was professor to members of the Bach family and Quantz.
In conclusion it should be said that this series is a triumph. The recordings, presentation, pricing and standard of musicianship are all excellent. The repertoire belies what may seem as if it would be routine or pedestrian. Cardin's great achievement is to have got inside the music's skin to such an extent that it becomes as robust (in its appeal) as it sponsors curiosity. He is a powerful advocate: for every note Cardin has refused to coddle, he has also eschewed forcing it upon us as some sort of oddity or specimen. He has made Weiss' remarkable music live.
Copyright © 2008, Mark Sealey