CD Review
The London Manuscripts
Volume 1
Suite #1 in F Major
Suite #2 in D Major
Suite #3 in G minor
Michel Cardin, lute
Société Nouvelle d'Enregistrement SNE-596-CD

Volume 2
Suite #4 in G Major
Suite #5 in C minor
Suite #6 in E Flat Major
Michel Cardin, lute
Société Nouvelle d'Enregistrement SNE-600-CD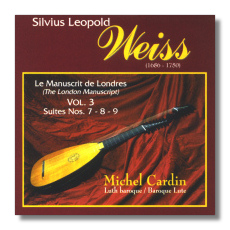 Volume 3
Suite #7 in D minor
Suite #8 in A Major
Suite #9 in D minor
Michel Cardin, lute
Société Nouvelle d'Enregistrement SNE-605-CD
(All CDs also available from Michel Cardin.)
There are now no fewer than three cycles (complete and projected) of Weiss' (1686-1750) lute music in the catalog (see the Weiss Discography for further details):
Robert Barto's on Naxos, of which eight discs are now available,
Yasunori Imamura on Claves 2613, of which we so far have one disc, which was favorably reviewed here recently,
Michel Cardin on SNE, of which we have all twelve available already. His claims to be the first time the complete London Manuscript has been systematically recorded.
Over the next few months we shall be looking in depth at all twelve CDs in this excellent sne set and evaluating Cardin's performances.
Weiss was an exact contemporary of Bach; he was born in Breslau (Silesia) in what was then Bohemia and is now in south west Poland. After showing early promise as a performer, Weiss obtained several positions as a lute player in provincial German towns, then went to Rome to work with the Polish prince Alexander Sobiesky. There he mixed with such key Italian musicians as Scarlatti father and son and Handel. When Sobiesky died, Weiss moved to Dresden for the rest of his life and wrote an impressive (and impressively large) body of works including 650 solo lute works; at first for the 11-course (a "course" is a string pair) lute then for the 13-course instrument; the latter became more used as the century progressed.
The London Manuscript is an edition of 316 pages now housed in the British Museum in London. The score is in tablature form (which means it indicates the finger positioning, not the notes on a stave) and comprises 237 pieces by Weiss grouped in 26 suites (each has six or seven individual movements), 5 grand duos with flute, and two dozen or so miscellaneous mostly dance movements. Note that Weiss originally did not name his suites as such (he used the term suonata later) but "suite" seems the most appropriate term. Few have names and none was originally numbered. Although we do know that these works were composed between 1706 and 1730, none was published during Weiss' lifetime. So Cardin has indulged in a fair amount of pure musicological detective work in arranging this series. He also acknowledges the contribution of D.A. Smith who initiated the Complete Works Edition (Peters 1984), continued by Tim Crawford and still in progress; and also the contribution of Ruggero Chiesa and his book from published by Suvini Zerboni in 1967, 'S.L. Weiss: Intavolatura di liuto' (available here and here) in some of this contextualising and grouping.
Cardin owns that the Weiss Dresden manuscript could well have been chosen to represent the composer's output in this series of recordings. It was rejected, though, because the London one precedes the Dresden, is more complete and – despite doubts about the authenticity of (fewer than) a dozen pieces – also contains these important miscellaneous pieces like the tombeaux, etc. The booklet accompanying the first CD tabulates the contents of the London manuscript in full, although each CD only contains three suites. Indeed Cardin's notes throughout are scrupulous in informing us exactly which manuscript was "patched in" wherever London is missing a movement: so the Dresden and Warsaw folios are used where necessary. Each subsequent booklet contains something slightly new and different – in addition to full and very helpful commentaries on the works.
A picture should be emerging by now of a very special, musically and historically highly-significant and collectible set, complete in conception and execution. Especially if the playing of the young Canadian lutenist is up to the task. As will emerge, it is, by a long, long way!
Criteria for evaluating a dozen CDs (over twelve hours' worth) of solo lute music have to be pretty stringent:
impeccable technique
musical empathy: an unswerving ability to communicate the essence, not the sonic surface, of the composer's intentions
wide, but not forced, dynamics – to admit variety whenever possible
an undemonstrative, yet persuasive, presence where the music's architecture is concerned
a thorough understanding of why the lute sounds as it does and an awareness of contemporary thought on tonality, ornamentation and evocation: Johann Mattheson's pronouncements on the "characters" of each key make interesting asides
an excellent acoustic, a superb recording: there is a need neither to tire nor leave the listener less aware of the music than the circumstance of the recording.
It can be seen right at the start of the first disc that Cardin consistently meets all of these criteria. His playing is fresh, rigorous yet expressive of the many moods and sentiments in Weiss' music. He has a warmth and lightness of touch; yet doesn't hold back when unselfconscious bravura is required. His command of ornamentation and indeed the whole idiom of what is sometimes difficult music is very high indeed. As you listen – importantly – you immediately feel you are in good hands and can concentrate on Weiss' sometimes extraordinary, always compelling and original, musical ideas. After a few hearings, certain typical turns of phrase, whole tunes and tonalities seep into your aural memory for the day, become part of your whistleable repertoire!
CD 1 contains the "first" three suites – in F Major, D Major and G minor. Number 1 with its slow, serene "Prelude" makes an excellent introduction to the whole series but, lest the listener settle into anything too distant, soon develops with faster, crisper, more animated movements ending in an extrovert gigue. The D Major suite next takes us through a surprising variety of moods corresponding to some unconventional uses of the movements… the courante is scored for semi-quavers and makes heavy use of the right hand ring finger. The third suite has no single final movement: it ends with two minuets. Its tone is triste and lyrical throughout.
The second CD has suites in G Major, C flat and E Flat Major. The first of these shows the influence (or at least reminds one) of Bach and Vivaldi for melody and metrical construction. We know that the C flat was composed in 1706 before Weiss went to Italy and shows a strong French influence; it is full of sadness and reserve; yet it demonstrates, assuming Weiss played what he wrote, just how advanced his technique as a lutenist was even at the age of 20. Suite number 6 is as versatile and full of life as the previous one was reserved. Lyrical, expansive and ending with a chaconne rather than a gigue, this wonderful suite should convince the skeptic of just how subtle a compositional style Weiss' was.
The third CD has two suites in D minor sandwiching one in A Major. The first is rhythmically interesting and quite outgoing; the A Major is full of grace and gives more than a nod in the direction of the style galant but again with its fair share of melancholy. Cardin's liner notes assist us by continually referring to the musicologist Mattheson's description of key and key relationships. That the contemporary assumptions about A Major are evaluated and contrasted with the way this suite actually works is useful. The second D minor (suite 13) is short, comprising only five movements. There is a sixth which at times ends this piece in performance; but Cardin believes this is really part of a duet for transverse flute which he hopes to present in a future recording – see above on the contents of the London Manuscript: an enticing thought. Despite this, the suite seems self-contained and internally very consistent. Just as well since it's a very serious composition.
So here is not only music of the highest quality and interest, music with multiple appeals, many-faceted and full of self-confidence even as the instrument for which it was written was being used less and less. But offered by a performer who – after an immense amount of painstaking sifting, assembling, arranging, cross-referencing, and, one assumes, after quite a bit of traveling – brings us a persuasive, cogent, sensitive, highly-polished and sympathetic set of recordings of what will seem like a gold mine after you have come to know the works and become familiar with their intricacy, delicacy, tonal vigor and tunefulness. The recording is forward, as is needed for the instrument, with just the right amount of presence, perhaps a tiny bit on the "cold" side – very "contemporary", though never bland.
What Cardin manages so successfully to do is respond to the tone and temperament of each of the movements in each suite. If drive and haste are needed, he imbues his playing with controlled urgency; if languor or reticence, so his pace becomes contemplative. But you never get the feeling that he's mapping onto the music something which isn't there. Listen, for example to the A Major suite on CD 3: the contrasts are indicative of Weiss' melancholy yet the minuet is as satisfying, almost, as anything Bach wrote in the genre and the chaconne as studied and self-respecting as anything before or since. Cardin gets right "into" these pieces, plays them from the inside – not as an interpreter looking at them. Very compelling.
We shall look more closely at the styles of Barto and Imamura in comparison with Cardin's next time; suffice it to say at this stage that Cardin's is perhaps more even-tempered and authoritative than Barto's and less romantic (and also a touch less mellow) than Imamura's. All three artists' recordings are to be treasured and could find a place in any discerning collection. But Cardin's are probably more consistently persuasive on more fronts than what we have from Imamura so far and Barto's slightly more individualized playing.
Don't wait for the subsequent reviews in this series if you are already convinced of the probity of Michel Cardin and like the sound of slowly building up a collection of mid-Baroque lute music to which you'll want to return time and again for nourishment and pleasure. This series will not disappoint. Here in the first three CDs the tone is set. Cardin is an expert in every way. Energetic when verve is needed, pensive when the music holds back. Yet not showy. His interpretations are likely to be the benchmark for generations. Unhesitatingly recommended.
Copyright © 2007, Mark Sealey