CD Review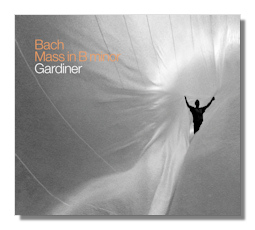 Mass in B minor, BWV 232
Hannah Morrison, soprano
Esther Brazil, mezzo-soprano
Meg Bragle, alto
Kate Symonds-Joy, alto
Peter Davoren, tenor
Nick Pritchard, tenor
Alex Ashworth, bass
David Shipley, bass
Monteverdi Choir
English Baroque Soloists/John Eliot Gardiner
Soli Deo Gloria SDG722
The credentials of Sir John Eliot Gardiner (born 1943) as a Bach specialist are, of course, impeccable… President of the Bach-Archiv in Leipzig since 2014 and author of the major study "Bach: Music in the Castle of Heaven". In 1985 Gardiner released a landmark recording of the B Minor Mass on Archiv 415514-2; that has appeared in two subsequent guises from the same label – in 2004 as part of the set, "Collectors Edition" (469769-2); and in 2012 it was included in 4790441, "All-Baroque Box (From Monteverdi To Bach)".
Gardiner obviously felt that his interest and ability to look anew at the B Minor Mass after a gap of more than a quarter of a century with major new insights warranted this recording. The celebrated "Cantata Pilgrimage" which Gardiner undertook in 2000 with some of the same musicians to be found on this recording is key to understanding the conductor's approach. Each cantata was intended to represent religious doctrine to congregations on the Sundays to which it was most relevant. In distinction, the B Minor Mass – as the summation of Bach's life work as a believer and theologian as well as a composer and musician – not only looked backwards in that reverse direction; but was also purposefully less specific. The sublime derives here from a more general faith and transcendent assertion of what music itself can do. Of course the text is central. But it's in Latin, not the vernacular; and so draws some of its strength in part from an abstraction that at first seems to sit oddly with Bach's Protestantism. In fact his affirmations transcend creed, and focus on belief and worship, not doctrine.
This is not, though, a "blaring", over-spectacular, larger than life account of perhaps Bach's greatest work – surely the one work which he might have considered his most profound. There is an admirable restraint and concentration on the part of Gardiner's soloists, chorus and orchestra alike. This performance was recorded in LSO St Luke's in London (in the studio of the music and arts centre of the London Symphony Orchestra) over four days in March 2015. While not decidedly introvert, it's definitely not an overly extrovert one. It's joyous, confident, uplifting; yet never either glossy or rhetorical. Indeed, technical confidence and the way in which the purely musical is addressed are given the greater priority.
In place of broad, striking swathes of color in oils, neither is Gardiner's B Minor Mass a watercolor, pastel or mezzotint. It's more photographic because overtly faithful to detail, depth, precision. But Gardiner privileges exactness over richness as can be heard in such attention to nuanced dynamic as the potentially over-contrasted major transition in "Et expecto resurrectionem" [CD.2 tr.8]. Gardiner has everything under much better control than that. There is impact. But it's impact for a reason, not mere sonic effect.
This is because a key aspect of Gardiner's conception is structure. He knows where the music is leading at every turn; and why. Part of this – in the spritely tempo of the "Cum Sancto Spirito" section of the Gloria [CD.1 tr.11], for instance – we may put down to familiarity… the B Minor Mass has been central to Gardiner's musical world (and those of his performers) for long enough for him and them to feel confident in revealing its contours and phases.
At the same time he doesn't draw the teeth, disguise or downplay the many moments of surprise and unexpected delight which Bach deliberately wove into the work. Joy and exaltation are present because controlled. The exuberant "Credo" movement, particularly its opening [CD.2 tr.1], is a good example. The texture is light and airy. Yet it is substantial. In part Gardiner achieves this through an intelligent blending of voice with instruments. His usual clarity is preserved, though, throughout the entire work. Individual sections and soloists in the winds and brass in particular seem to provide more variety and highlights than "accompaniment".
The experience of Gardiner and his forces with the cantatas comes out time and again: the ensemble work in "Et in unum Dominum" [CD.2 tr.2] is a good example. Tight, focused, linked and yet relaxed, the duet displays the same effort to project without overwhelming, without distracting us and inviting us to expect grandeur as should happen throughout Bach's cantatas. At the same time, instrumental lines and almost experimental textures gently interweave one within the other. This causes us to remain concentrated on the text and its place in each and every movement as a part of the greater whole. Gardiner's performance is striking because of its judicious use of ratio, part to whole. There is no string of flowery or over-saturated parts.
This is not a staid performance, nor over curated. It's not perfunctory or lacking in vigor or dash. At the same time, it is polished. Musical competence and confidence are made to lie at its core. The balance achieved may best be summed up as "selfless". For all that Gardiner is a pillar of the Bach establishment, his approach and execution put the music first. They emphasize joy and faith: surely two of the most important qualities of the music.
The acoustic of LSO St Luke's is ample and responsive without being grand or reverberant. Sedate, almost. Certainly an appropriate space for this work, and not altogether unlike the subtle and unostentatious ambience of St Thomas in Leipzig. It sponsors (our) extreme concentration on the music at all times. The half dozen pages introducing the B Minor Mass in the booklet that comes in this nicely-produced two-CD set from Gardiner's own label, SDG, are extracted for the most part from chapter 13 of his aforementioned book, "Music in the Castle of Heaven". The booklet also contains the full text in Latin and English. This recording will not thrust itself to the top of everyone's list. Those who are looking for a more "swollen" statement of Bach's achievement, or who want purely period-instrument and one-to-a-part concentrations, may look elsewhere first. But it has a definite place in the most useful and inspiring current recordings. Gardiner has much to say about the work, about Bach's musicality, and about the way in which he harnesses musical genius to (his) belief. And he says it all very well indeed. A recommended recording.
Copyright © 2016, Mark Sealey