Related Links
Recommended Links

Site News
CD Review
Natasha Paremski Plays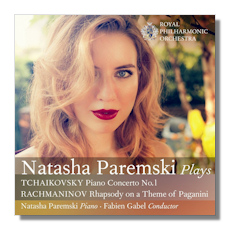 Concerto for Piano #1, Op. 23
Rhapsody on a Theme by Paganini, Op. 43
Natasha Paremski, piano
Royal Philharmonic Orchestra/Fabien Gabel
Royal Philharmonic Orchestra SP044
If you happened upon this disc, and opened it up, you might get the impression that the whole point of the project was to capitalize on pianist Natasha Paremski's admittedly stunning looks. Such is the state of the market; make everyone look like a superstar. Thankfully, this young Russian-born pianist has real things to say about the actual music. She's not working with a superstar conductor, or even one of the big name orchestras, but she is working with people she likes working with. Listening here, that obviously counts for something.
I find the Tchaikovsky first more impressive with each repeated hearing. Never my favorite work to begin with, it's a difficult piece to pull off. Paremski adds lots of individual dynamic and rhythmic touches to make the piece her own, and I really like it. She's very well captured, and clearly loves the music at hand. Kudos to conductor Fabien Gabel for following her every step of the way. Sure, the Royal Philharmonic isn't perfect the whole time, but they provide an ideal backdrop for the youthful virtuoso to spin her magic. The first movement is a thrill ride, and you just don't know what Paremski will do next. This takes guts and courage, and she has both. A marvelously phrased opening to the Andantino – gorgeously captured orchestral sound, this – leads the way in this deliciously delicate and flowing second movement. The finale is a knockout; it's not the fastest on disc, but it feels unusually swift thanks to the clarity of the orchestral backing and the urgency that the pianist imparts on the proceedings. There's nothing heavy or ponderous here, qualities that have destroyed many a recording and live performance. Overall, deeply rewarding.
The Rhapsody is also a work that Paremski has played in concert with frequency, and again her strikingly individual playing sets her apart. Conductor Gabel again follows her like a shadow, and lets her blaze through the work like a blowtorch through butter. The interpretation is incredibly exciting, bristling with tension throughout. The exceptional accompaniment adds to this impression, while also giving the many lyrical sections of the piece their due. The piano playing here is exceptional; highly attuned to the moods and wishes of the composer, but also entirely her own. The result is superb. Oh, you want to know about the famous 18th variation? Wonderful. The closing pages are explosive. I requested this disc on a whim. I suggest you get a copy for yourself.
Copyright © 2013, Brian Wigman