CD Review
Ports of Call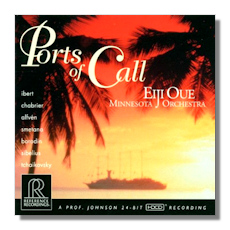 Minnesota Orchestra/Eiji Oue
Reference Recordings RR-80CD HDCD
This disc didn't make as much of a splash upon its release in 1997, for a few reasons. First of all, the "record everything" 90's had made competing in standard repertoire so difficult, and secondly, I respectfully question whether professional critics were really interested in excellence artistically as in the "big names" that were active at the end of that decade. Admittedly, this project isn't as adventurous as the other discs in the series, and doesn't really shock with any of the works here. Oue was never a big name, either. Guess what? All of the above is totally irrelevant. This is masterfully played, gorgeously engineered, and doesn't require so much virtuoso firepower that Oue leaves his comfort zone. If you want a disc of warhorses – and we all have several, even if sneer at them publicly – then at least get this one, because it sounds stunning and is musically great.
In reading the sometimes hilarious, but often infuriating Amazon.com customer reviews for classical music, it's rather hit and miss. But the reviews of this particular program seem to be fairly accurate. The sound gets top marks, but some listeners wanted more "snap" to the playing. I suppose that's fair, although the conductors listed in comparison such as Fiedler and Ormandy, were hardly known for "snap". The point I'm making is that despite the sonic and interpretative excellence on display, everyone has their own view of how an orchestral favorites disc should sound. If you're looking for a full-throttle and occasionally rough sounding romp, Bernstein is your man. But if you loved Ormandy, you might actually love this, because to my mind, this is close to what that great conductor actually did in work like this, only without the better balances and sound granted to Oue. Oue studied with Bernstein, so one can't claim he doesn't know how a blockbuster should go.
And so the Smetana is not particularly Czech-sounding, but is utterly amazing as far as pure sound. String playing in Finlandia and the Borodin also amazes for sheer weight and soaring tone. None of this music sounds especially like the music of that country, and in that sense it's all a touch faceless if you're looking for a truly _____ sound. But that's not what a disc like this is for, and that's probably not why you'd want it. Winds are fabulous, and Oue balances each section like the pro that he is. Taken as a whole, this program is certainly worth having, and it might just get played more than you expected. Buy it, love it, I promise not to tell.
Copyright © 2013, Brian Wigman