CD Review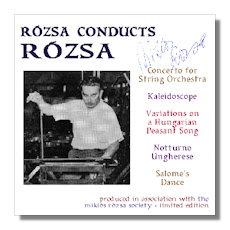 Rózsa Conducts Rózsa
Concerto for String Orchestra, Op. 17 1
Kaleidoscope, Op. 19a 1
Variations on a Hungarian Peasant Song, Op. 4 1,2
Notturno Ungherese, Op. 28 3
Salome's Dance 4
2 Denes Zsigmondy, violin
1 Vienna State Opera Orchestra/Miklós Rózsa
3 RCA Italiana Orchestra/Miklós Rózsa
4 Symphony Orchestra of Rome/Miklós Rózsa
ReDiscovery RD135 analog 58:27
This is a wonderful treat, and I cannot recommend it highly enough!
Like Erich Wolfgang Korngold and Franz Waxman, fellow film composers from Hollywood's heyday, Miklós Rózsa did not abandon "serious" composition, but rather juggled it with his duties for the film studios. In fact, the Variations on a Hungarian Peasant Song, composed in 1929, predate any of his work as a film composer (originally written for violin and piano, it was orchestrated by the composer in 1958).
Rózsa was born in Budapest in 1907, studied music in Leipzig, and remained mostly a composer of concert works until a fellow Hungarian, Alexander Korda, engaged him to score the 1937 film Knight Without Armour. Soon, Rózsa came to Hollywood, where he scored over 100 films. Among his most notable films are Spellbound, Ben-Hur, and El Cid. He continued writing concert works as well. Rózsa died in 1995, having remained active as a composer until 1987, when failing health and failing eyesight caught up with him.
This CD-R was produced in association with the Miklós Rózsa Society, which was formed in 1972. What many of these works have in common, whether their titles acknowledge it or not, is a Hungarian influence. The first three recordings in the headnote (those with the Vienna State Opera Orchestra) originally were released on a Westminster LP in 1959, and these performances have not been on CD until now. The Notturno Ungherese comes from a 1965 RCA Victor LP. Salome's Dance, heard in King of Kings (but not in such a complete form) is the only item on this release to come not from an LP but from reel tape. David Gideon's digital remasterings are outstanding throughout.
The Concerto for String Orchestra and Kaleidoscope date from the 1940s. The former is modeled after a Baroque concerto grosso, although the material (while tonal) is modern. The Hungarian influence is particularly strong in the third movement. Kaleidoscope, originally a work for solo piano, was orchestrated in 1957, so this was its première recording. It is a set of six charming miniatures – none longer than three minutes – in a variety of styles. This might be Rózsa channeling Tchaikovsky's Nutcracker! The nostalgic and atmospheric Notturno Ungherese (Hungarian Nocturne) is from 1964. The disc comes to an uproarious end with Rózsa's take on Salome's Dance of the Seven Veils – not as calculated as Richard Strauss's, but supremely colorful and decadent nonetheless. Rózsa was a fine conductor, and each of these performances is excellent.
The CD-R can be purchased at www.rediscovery.us for $15, which includes shipping. Don't deny yourself the pleasure!
Copyright © 2008, Raymond Tuttle