SACD Review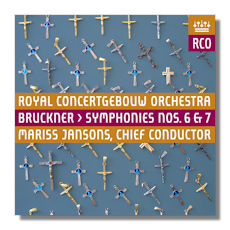 Symphony #6 in A Major, WAB 106
Symphony #7 in E Major, WAB 107
Royal Concertgebouw Orchestra/Mariss Jansons
Recorded Live in March and December 2012
RCO Live SACD RCO14005 2Discs Hybrid Multichannel 53:11 + 63:16
I love when orchestras record live performances, and perhaps no orchestra in the world has more great live performances preserved than the folks at the Concertgebouw. Unfortunately, these two discs contain only the "live" part of that equation. Conductor Mariss Jansons last released a live, orchestra-recorded Bruckner 7th in 2010 with the Bavarian Radio Symphony Orchestra, and there is a legitimate question here. Why did we need another?
Of course, the answer is "We didn't." If the performance of the 6th was something special, there would be greater justification for this release. It isn't. Jansons rushes everything, in all the wrong places. There is trouble from the opening notes, which sound way too fast. But it's not just about speed. Jansons could be forgiven for his quick tempos if he could make the music interesting at the chosen tempo. That doesn't happen, either. I am not a writer who believes that Bruckner has to be unduly slow to be effective, but I don't believe you can just glide through it. Consider Klemperer's reference Bruckner 6th. Sure, Otto was considered a slow conductor, yet there are less than two minutes of total time difference between his and Jansons'. Listen to that former performance now on Warner Classics, and you'll find an infinitely more moving rendition, in golden-age stereo sound. Jansons does manage to give us a terrific Adagio, with a good deal of credit going to his orchestra. Unfortunately, the Scherzo is rather faceless despite fine playing, and again feels overly hasty. There is a lack of emotional weight at the climaxes that makes you wonder if the conductor likes this music at all. In the concluding movement, Klemperer is nearly a minute faster than Jansons, and infinitely more convincing. Naturally, the Concertgebouw sounds fabulous, but they also sound less than committed.
Thankfully, the coupled 7th goes a good deal better. Jansons actually slows down enough in the introduction to allow the music to breathe. Honestly, when was the last time you needed a conductor to slow down in Bruckner? The Concertgebouw strings take advantage of the more relaxed tempos to create some truly beautiful sounds, and there are plenty of moments where you can admire the ensemble anew. Still, Jansons' predecessor at the Concertgebouw – Riccardo Chailly, for those who may have forgotten – recorded a benchmark 7th for Decca with the Berlin Radio Symphony Orchestra. There are also tons of 7ths from Berlin and Vienna, plus Haitink with this very orchestra twice. The first of those is like this one; excellent playing without a great deal of insight. The second Haitink performance is a classic, and his live Chicago Symphony reading is also great. If you still want to invest and editions are a concern, Jansons uses the Nowak Edition for both symphonies. In the end, I admire the Royal Concertgebouw tremendously, and their recordings are legendary. This is one set that needn't have been preserved, no matter how fine that 7th was in concert.
Copyright © 2015, Brian Wigman