CD Review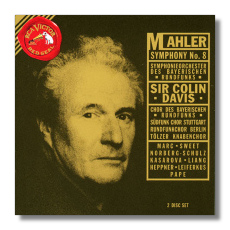 Symphony #8 "Symphony of a Thousand" (1907)
Allesandra Marc, soprano
Sharon Sweet, soprano
Elizabet Norberg-Schulz, soprano
Vesselina Kasarova, alto
Ning Liang, alto
Ben Heppner, tenor
Sergi Leiferkus, baritone
Rene Pape, bass
Berlin Radio Chorus
Bavarian Radio Choir
Bavarian Radio Symphony Orchestra/Colin Davis
RCA Red Seal 9026-68348-2 (2CDs for the price of one)
This is the kind of recording that is difficult to review. For one thing, until receiving this recording for review, I was not really all that familiar with the work. I have had Stokowski's 1950 recording in my collection for some time, but never really sat down and listened to the piece. I also received, from a friend, Rafael Kubelík's recording, using the same orchestra and with Deitrich Fischer-Dieskau as tenor. Then, one day while driving around Columbus, Ohio running errands, I happened to listen to Mahler's 8th from a live performance with the Columbus Symphony Orchestra. Now, this experience was punctuated with shopping, but I really got a chance to appreciate moments of the work for the first time. This helped me develop a 'musical map' as a reference for further listening.
So, I listened to Part One by Davis at home. I felt slightly dissatisfied, the aural picture is distant and you have to really 'cran it up' for best effect. The orchestra also seemed to get swamped by th singers, especially the chorus. I turned to Kubelík's recording and wa immediately taken by his interpretation. The orchestra plays a more equal partner in things. Kubelík has a faster tempo and seems to capture a different nuance in interpretation. I wrote words to this effect in a rough draft, stating I preferred Kubelík.
Then I listened to Part Two by Davis. Things changed a lot. The perspective of distance adds to the element of mystery in Sir Colin's interpretation. There also seems to be a better relief between orchestra and singers. Heppner is absolutely wonderful. Then there is the matter of sound, one that Stokowski, best of all, understood in its inherent relation to music's "meaning". The closing moments of Davis' recording provide individual detail: the tam-tam, organ and orchestra playing together like a trio, that just "kicks my shit". The earlier, DG recording, veils the interplay, making it less involving. I also prefer Heppner over Fischer-Dieskau (gasp!!). You can see that the process of reviewing a specific recording is rather detailed and this i not the end.
Next, I listened to Stokowski's performance. This is from 1950 with th New York Philharmonic and it is special. Listening to Stokowski's I get a sense of the occasion. There is a tension in the whole thing, the Second Part lasts five minutes less in Stokowski's hands (literally) than Davis. I get a sense that I am at the première, sitting next to Leopold Stokowski, and this is how it sounded. I know that's nuts, but there is something about the Stokowski recording that is different from Kubelík and Davis. Still, this work benefits from stereo and, good as it is, Stokowski's i monaural. The ending, with the tam-tam, organ and orchestra is not as powerful. Stokowski uses cymbals to reinforce the effect, but it is just not as powerful as Davis.
So, I am glad that I don't have to 'choose' a best recording. All thre I studied are excellent and different. If you have to choose only one, I feel sorry for you. I guess I'd have to say that Davis' recording is the best modern one I have heard (I also listened to Tennstedt's but it is just way too slow for me). I would recommend Kubelík for his more lyrical way with the music. Besides, its on a budget label. (Then, again, the Davis is on a two-for-the-price-fo-one set.) Then there's Stokowski. I swear that this must be how it sounded when Mahler conducted it in 1911.
On the other hand, I think I shall return more often to Sir Colin Davis recording for pure listening. I have it on currently as I write. Part Two is one of the most spiritual things I know in music. If you do not know the piece, the insert notes in the RCA package will help provide a musical map for you.
Someone posed a "question" in a classical music forum. "How can one review a piece of music without being able to read it?" The answer is, we "listen a lot!!!"
Copyright © 1997, Robert Stumpf II