CD Review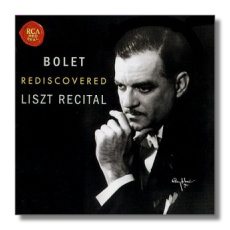 Bolet Rediscovered
Liebestraum #3
Gnomenreigen
Un sospiro
Funérailles
La campanella
Waldesrauschen
Grand Galop chromatique
Rhapsodie espagñole
Wagner-Liszt: Tannhäuser Overture
Jorge Bolet, piano
RCA Red Seal 09026-63748-2 ADD 69:12
Why is a solo piano disc that was recorded in 1972 being released for the first time in 2001? It must be horrible, a case of grave-robbing, right? (Bolet died in 1990.) Actually, it is one of the most exciting piano CDs to come my way this year, and it would be an unforgivable mistake to miss it.
These recordings were made in August 1972 in RCA's New York studios. According to Gregor Benko, president of the International Piano Archives and a friend of the pianist, Bolet was supposed to record enough Liszt for at least a two-LP set. After recording a little more than 53 minutes worth of material, however, Bolet never recorded more Liszt in RCA's studios, except for the Tannhäuser Overture, which was taped in July 1973 at another recording session. The tapes of these 1972-73 sessions were put aside and then, apparently forgotten. It was only in the last few years that RCA started seriously cleaning house. Reissue producer Jon M. Samuels found the Bolet tapes "inadvertently," and this release, digitally remastered by Marian M. Conaty, is the astonishing result.
Those who know Bolet's Liszt only from the London/Decca discs that he recorded in the late 1970s and the1980s might have pegged him as a good technician, but as a pianist who seldom caught fire; his later work can be careful and unspontaneous. Earlier recordings, such as his Carnegie Hall recital from 1974 (reissued in Philips's "Great Pianists of the Twentieth Century" series – 456 724-2), show that when the conditions were right, he was the Romantic Era reincarnated. This new release finds him responding to the music pretty much as he did in the best "live" situations: with showmanship and inspiration to match his technical skills.
Liszt's music receives definitive recordings here. Bolet is relaxed (no rushing in La campanella) but sensitive to both interpretive and technical challenges. The Liebestraum and Un sospiro are melting and ardent. Bolet's touch, velvety yet penetrating, is a miracle, and he caresses each phrase as if it is taken from an operatic aria. He reaches tragic heights in the Funérailles, and finds the unsettling spookiness in Gnomenreigen and Waldesrauschen without crossing the line into camp. On the other hand, the silly Grand Galop chromatique is played with the tongue-in-cheek attitude that it deserves. My only reservations here concern the Rhapsodie espagñole, which, while charming, does sound a bit cautious compared to what has come before. The Wagner arrangement was done "off the cuff" at the end of a day of recording other material. Engineers only barely caught this unedited reading, which is why the first note sounds a little watery. For a "run through," this is scary stuff. It's not utter perfection (the Carnegie Hall recording isn't perfect either), but it seems to be driven by the Devil's lash. If you think virtuosity and profundity are mutually exclusive, here's proof otherwise.
Of course Bolet's playing has much to do with it, but there are few piano CDs that present the instrument as attractively as this one. Kudos to Conaty for her engineering, and to the "Weiss 24/96 technology using a customized Studer transport with Cello electronics." This is how piano discs should sound.
An essential recording!
Copyright © 2001, Raymond Tuttle