CD Review
RCA Living Stereo
Saramae Endich & Adele Addison, sopranos
Florence Kopleff, contralto
Mallory Walker, tenor
Ara Berberian, bass
Robert Shaw Chorale & Orchestra/Robert Shaw
RCA Living Stereo 09026-63529-2 ADD 2CDs 65:02, 67:43
Robert Shaw's death early in 1999 may have given BMG Classics the impetus to reissue his imposing Bach B-Minor Mass. Shaw and his Chorale made many LPs for RCA Victor in the 1950s and 60s, but the label has seen fit to reissue only a fraction of them on CD, perhaps fearing that these older recordings cannot compete with the conductor's digital remakes for Telarc. If that is the case, I hope that they will reconsider, because Shaw's earlier recordings still are very appealing.
In 1960, Shaw took a group of 33 singers and 29 instrumentalists on an unprecedented 36-city tour of the United States. A single work was performed: the one contained here. This recording was made at the end of the tour, in New York City's Manhattan Center. I have spent several days in the glorious company of these discs. They contain a highly balanced approach to the B-Minor Mass. Although the ensemble that Shaw used probably was somewhat larger than the ones used in Bach's time, the effect, while impressive, is never massive or inflexible. The use of concertists helps keep the choral textures lean. Under Shaw's care, the music is full of dancing rhythms, of lightness, and of felicity. Shaw was the consummate professional, and he encouraged similar professionalism in everyone who sang or played under him. There are plenty of versions of this work that feature brand-name soloists, but their presence is 9/10th s hype; one doesn't need star opera singers in Bach's B-Minor Mass, just good voices who sing in the appropriate style, and that's what we get here. And while the instrumentalists don't play "period" instruments, they play with affection and with an understanding for the period. (At this point I must add that one can understand period style and make good use of it in modern performances without attempting to recreate it. Later in his career, when Shaw easily could have used period instruments, he didn't throw out the baby with the bath water. Instead, he just continued to demonstrate that playing Bach with stylistic sympathy was a function of intellect and taste, not of "having the right tools.") The sound quality isn't laser-like, nor should it be – instead, it forms a glowing halo around the music and performance, which have their own luminous qualities to begin with.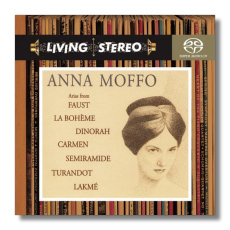 It is freakish how, years after their careers are over, some singers are worshiped and others of no less talent are neglected. After many lean years, lovers of great singing are getting a new opportunity to evaluate American soprano Anna Moffo. Living Stereo reissues of La bohème, La traviata and now this recital album have been helpful in reminding people what a winning singer she was. Her nickname was "La bellissima," a tribute to her good looks and her no less attractive singing.
This album was made in Rome, also during 1960. Moffo was fortunate to have had Serafin's assistance; he was the grand old man of Italian opera conducting, and no doubt he taught her a few things about the arias she sang. She is at her best in the arias from La bohème ("Mi chiamano Mimì") and Turandot (both of Liu's arias). She had ready access to that quality that Italians call morbidezza – no soprano can sing these roles optimally without it. (Think of it as the the ability to intensify the emotional effect by singing softly and gently.) I also like Moffo's unaffected Micaela and Marguerite. Although her coloratura singing was distinguished, I feel she is less effective in "Ombre légère" from Dinorah, "Bel raggio lusinghier" from Semiramide, and the "Bell Song" from Lakmé because these arias suggest a less varied emotional response, but only superficially. (Maria Callas was one of the few modern singers who realized coloratura's full expressive potential.) Nevertheless, I am not really complaining. It's wonderful to her Moffo singing as well as this, and my only complaint is the shortness of the disc: 44 minutes is short for a CD.
Copyright © 2000, Raymond Tuttle