CD Review
Russian Orchestral Music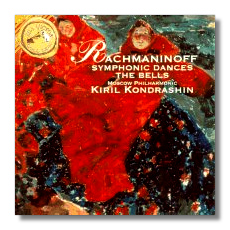 Symphonic Dances, Op. 45
The Bells, Op. 35
Yelizaveta Shumskaya, soprano
Mikhail Dovenman, tenor
Alexei Bolshakov, baritone
Russian Republican Capelle/Alexander Yurlov
Moscow Philharmonic Orchestra/Kiril Kondrashin
RCA Victor Gold Seal 74321-32046-2 ADD 69:04

Symphony #5 in D minor, Op. 47
The Age of Gold, Op. 22: Polka
Suite from the film "Michurin," Op. 78
USSR Symphony Orchestra/Maxim Shostakovich
RCA Victor Gold Seal 74321-32041-2 ADD 72:15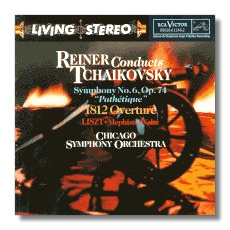 Symphony #6 in B minor, Op. 74 "Pathétique"
1812 Overture, Op. 49
Franz Liszt: Mephisto Waltz
Chicago Symphony Orchestra/Fritz Reiner
RCA Victor Living Stereo 09026-61246-2 ADD 69:22
I get a funny feeling seeing the two RCA Victor Gold Seal discs; after all, these were performances that appeared on the Angel/Melodiya label back in the age of LPs. (Later, they also showed up on Quintessence LPs and cassettes.) BMG Classics has been marketing Melodiya for only a short time now, and they've barely scratched the surface of what we once had on Angel/ Melodiya (to say nothing of what was never so favored for export). Still, it's good to have these recordings available again. The new CDs contain performances that are more than viable, and, in the case of the Shostakovich Fifth, one that is practically essential. Maxim Shostakovich's more recent accounts of his father's symphonies tended to turn slack when he recorded them with Western orchestras for Collins Classics, but his USSR Symphony Orchestra recording of the Fifth, recorded in the mid-70s, perfectly balances the work's personal and public tensions in a reading that lets the listener judge for himself what the composer really was trying to say. Does 0it depict triumph or tragedy? Is it really what Shostakovich called "the development of a personality," and if so, what kind of personality? Maxim Shostakovich's strength lies not in addressing those questions, but in simply letting the music sing, as it does even in its hectic closing bars. As for the couplings, it's a shame that only the Polka was selected from The Age of Gold, because Maxim recorded the whole four-movement suite for Melodiya, and to very good effect. I would have preferred it to music from the Soviet bio-pic Michurin (Michurin was a horticulturist, I believe.) There's lots of hearty Soviet bombast (including a chorus), but little of very much musical interest, except in the track entitled "Recollection." The sound on this disc is very good.
I wish I could say the same for the sound on the Rachmaninoff disc. Unfortunately, the Symphonic Dances sound like they were recorded in a biscuit tin, and The Bells is only a bit better. (Here, the orchestra and the chorus seem to be in two completely different sonic environments.) This is what gave Soviet engineering a bad name. Tuttis are shrill and boomy and lack definition. Somehow, the recording engineers managed to dry out the instrumental tone even in what sounds like the most resonant location that they could find in all of Moscow. The original recordings date from 1962 and 1963. As for the performances, I don't know a Bells that rings my chimes more than this one. Most recordings turn it into a warm bath; Kondrashin keeps the work moving right along in a colorful and pointed manner, and his male soloists, while they don't have the most pleasing voices, have authentic style on their side, and that counts for a lot in this work. Besides, I find Yelizaveta Shumskaya's bright soprano voice to be a lovely thing. The Symphonic Dances also breathe fire; this performance is more brilliant than well-characterized. Although Kondrashin misses much of the music's near-panic and morbid sensibility, this nevertheless is an enjoyable account.
I have no complaints about the sound on the Reiner "Living Stereo" disc, although the master tapes aren't free from occasional dings and dents. Reiner's "Pathétique," recorded in 1957, is middle-of-the-road in the best sense: its drama lacks hysteria, and it sings without gushing. The Chicago Symphony Orchestra is in top form, and if this recording doesn't provide any special insights, it's so well done that almost no one will be unsatisfied by it. The Mephisto Waltz, recorded in 1955, is even better: this is one of Reiner's greatest and most involved (and involving) recordings. It just might convince you that this is profound music. As for the 1812 Overture, highlighted by the cannon on the booklet's cover, I'd give it a miss. Charles O'Connell's original program notes promise actual cannons. I'm not sure I hear them – something is going off at the end of the overture, but it might be the percussionist shaking a cigar box full of pebbles, for all I know. Even worse, Reiner trims the score down to 12:32, and the result is perfunctory - a contractual obligation, if you will.
Copyright © 1999, Raymond Tuttle