Related Links
Recommended Links

Site News
CD Review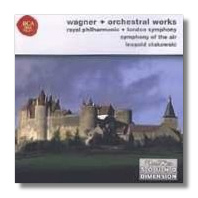 Die Meistersinger von Nürnberg
Prelude to Act III
Procession of the Meistersingers
Das Rheingold: Entrance of the Gods into Valhalla *
Die Walküre
Ride of the Valkyries *
Magic Fire Music
Götterdämmerung
Prologue: Siegfried's Rhine Journey **
Siegfried's Funeral March **
Rienzi: Overture
Tristan und Isolde
Prelude
Liebestod
Well, the contents of this well-filled disc may take more space than the actual review. The music here was originally issued on two discs in the Stokowski Stereo Set from RCA in 1997. The music on those discs was, in turn, taken from three LPs recorded in 1960, 61, 73 and 1974. What amazes me is that the music from the earlier recordings doesn't SOUND like it was recorded a decade earlier.
Whilst the sound on the earlier two CDs was very good, the latest incarnation is even better. There have been a few complaints that the Dance of the Apprentices was deleted from this disc but that is a bit of nitpicking. (What is a nit? And don't write me, I know but wanted to be a gadfly… or is that mixing metaphors?) The sound now has even more depth, perspective and richness.
I have always regretted that Stokowski never had the chance to record a Ring Cycle. The Stokowski Sound is perfect for Wagner's epic. The seamless strings, the fullness of the double basses and Stokowski's own élan would have taken the listener to a different realm of existence.
Given the low price this disc would make a wonderful introduction to Wagner's music. Christmas is coming. Oh, yeah, the Ride of the Valkyries is the same one, voices and all, used in the movie "Apocalypse Now".
Good stuff.
Copyright © 2004, Robert Stumpf II