CD Review
Hänsel und Gretel
Anna Moffo, soprano (Hänsel)
Helen Donath, soprano (Gretel)
Christa Ludwig, mezzo-soprano (The Witch)
Dietrich Fischer-Dieskau, baritone (Father)
Charlotte Berthold, mezzo-soprano (Mother)
Arleen Augér, soprano (The Sandman)
Lucia Popp, soprano (The Dew Man)
Tölz Boys Choir
Munich Radio Orchestra/Kurt Eichhorn
RCA Red Seal 74321-25281-2 ADD 2CDs 59:35, 42:21
I confess that I haven't taken the time to get to know this opera until now. Because I started listening to Aïda when I was 4, I never felt like a needed a "children's opera." Furthermore, I am a dutiful Wagnerian, not an enthusiastic one, and I haven't jumped at the opportunity to frolic in what I thought was a kind of kinder-Bayreuth. As we age, I believe that we should lose our prejudices, not gain new ones. This attitude is justified by Hänsel und Gretel, a tasty and highly digestible opera, no matter how old you are.
Another one of my motivations for hearing this recording was Anna Moffo, who is just swell, as far as I am concerned. (Another example of losing my prejudices: four years ago I would have laughed at the statement that Anna Moffo was an important singer… until I really listened to her sing. Then I ate humble pie.) Her tone isn't really boyish, but it contrasts well with Donath's, who's definitely a girlish Gretel. The two of them are an adorable pair of brats. They're not too sweet, which probably is a very good thing. Their voices blend well, and they get into their parts.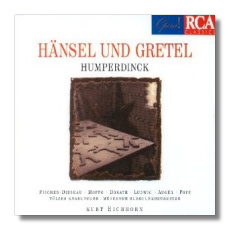 Christa Ludwig gets into hers as well. As the Witch, she scoops into notes like a drunken operetta diva and cackles with campy abandon. She's like a little auntie having a psychotic break. It would be wrong to make the Witch a genuinely terrifying figure, and Ludwig does right by keeping a light touch and never letting us forget that she is wearing a mask and that this is a fairy tale for children. Popp and Augér contribute gorgeously sung cameos, and Charlotte Berthold (as the Mother, a completely thankless role) resists the temptation to be too cross. Dietrich Fischer-Dieskau is, well, Dietrich Fischer-Dieskau: that unmistakable voice does everything intelligently. The Tölz boys give out their juicy tone with impressive control.
I must point out that "Eichhorn" is the German word for squirrel. Appropriately, he's a nimble conductor and he keeps this opera moving along - you can hear it in one sitting without getting restless. The Munich Radio Orchestra pours out a rich Wagnerian sound without overwhelming the singers. The voices are recorded warmly, but when the whole orchestra is playing, the recording (vintage 1971, from Eurodisc masters) is a bit shallow.
This set includes a German-English libretto, a synopsis, and a friendly introductory note from George Jellinek, dean of "The Vocal Scene." All in all, this is highly recommendable, although some collectors may want to wait for the upcoming EMI reissue of the echt-Deutsch Hänsel und Gretel that stars Elisabeth Schwarzkopf.
Copyright © 1999, Raymond Tuttle